Microsoft is readying its next major release of the Windows operating system. After months of demos, early testing, beta releases, and finally announced launch plans, here's what you can expect in an upgrade.

When is Windows 7 coming out?
Windows 7, the next major operating system (OS) release from Microsoft after Vista, will be officially available on October 22. The first beta of the OS was released in February and a Release Candidate (RC) followed in May. The beta version will expire next week, while the RC will remain a free download until August 15.
How many versions of Windows 7 will there be?
Six different editions of Windows 7 will be available: OEM, Home Basic, Home Premium, Professional, Enterprise and Ultimate. You won't however see in the shops all the above edition. Marketing efforts will be concentrated only on the Home Premium and Professional editions.
The other editions, including a non-Internet Explorer version for users in Europe, will be available for various markets around the world.
What's in each edition of Windows 7?
Microsoft said that features of all edition of Windows 7 would be stored on machines, regardless of which edition the user has purchased. Using the Windows Anytime Upgrade tool, users can unlock more features within the OS.
The chart below (from Wikipedia; click to enlarge it) is a fair guide on the features available in each version of Windows 7.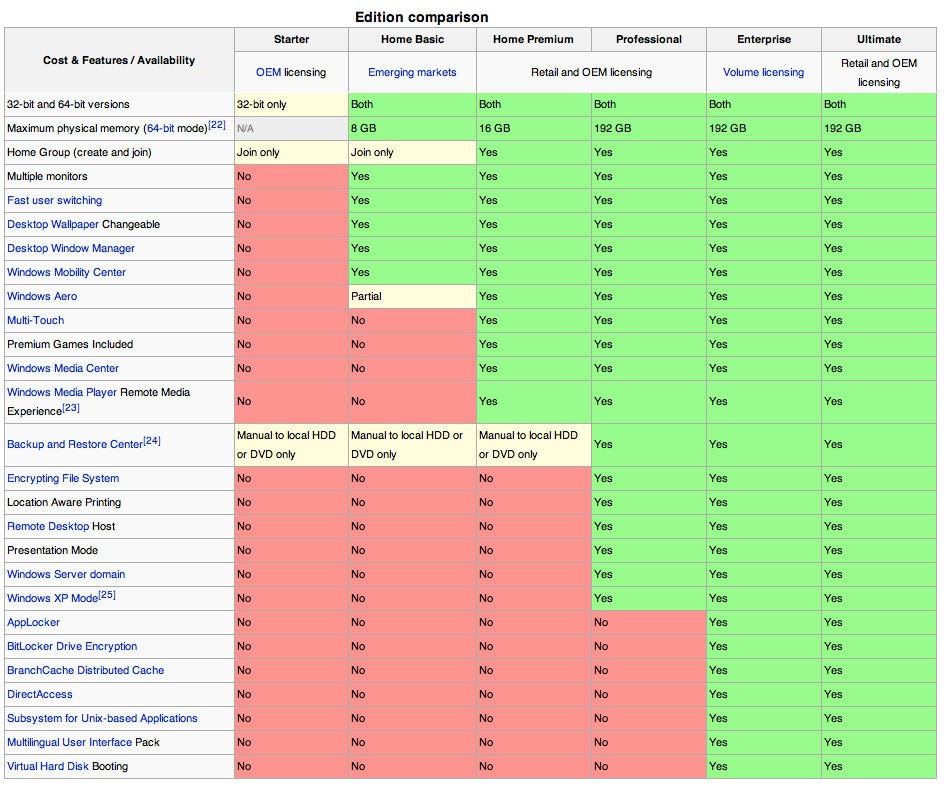 How much will it cost me to upgrade to Windows 7?
Residents in the U.S., Canada, and Japan can now pre-order an upgrade version of Windows 7 for a temporarily reduced price. The Windows 7 Home Premium Upgrade is available for $49.99 and the Professional Upgrade version is $99.99.
The deal will last until July 11 in the U.S. and Canada, and only until July 5 in Japan. The number of copies available is not unlimited and Microsoft did not say how many will be available.
Where can I get this special pre-order deal?
The Windows 7 pre-order deal is available only online. In the U.S. it can be purchased from Amazon, Best Buy, Costco, Fry's Electronics, Office Depot, Office Max, Sam's Club, Tiger Direct, Wal-Mart, NewEgg. In Canada, Staples, Future Shop, Best Buy, London Drugs, Amazon, and the Source are supplying the updates; in Japan, Yodobashi Camera, Amazon, Yamada Denki, and Bic Camera carry the deal.
Both special prices upgrades are available for Windows XP and Vista users. Windows XP users will have to do a clean install. Moving from a 32-bit version of Windows to a 64-bit one will require a clean install as well.
For the UK, France and Germany, pre-orders will start on July 15.
Is there a discount on Windows 7 Ultimate/Professional Upgrade?
There is no equivalent discount so far for those running Vista Ultimate and willing to upgrade to Windows 7 Ultimate. Windows 7 Ultimate Upgrade will cost $299.99 and Professional Upgrade will be $199.99.
This move has already created outrage among many Vista Ultimate users.
What if I don't pre-order the special deal?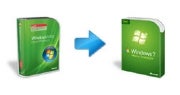 After the July 11 cutoff date for the special deal, a Home Premium Upgrade version will cost $119.99 and a Professional Upgrade will be $199.99. The same pricing is expected after October 22 when Windows 7 will be available to everyone.
Standalone versions of Windows 7 Home Premium will cost $199.99, Professional Edition $299.99 and Ultimate Edition $319.99.
HP and Lenovo will offer free Windows 7 upgrades to qualifying customers who own machines running Vista.
What are the minimum hardware requirements for Windows 7?
Microsoft says Windows 7 is designed to run well on PCs that meet the recommended system requirements for Windows Vista.
Before you upgrade to Windows 7, be sure to compare your PC's specifications with the Windows 7 system requirements as follows:
1GHz or faster 32-bit (x86) or 64-bit (x64) processor
1GB RAM (32-bit) / 2GB RAM (64-bit)
16GB available disk space (32-bit) / 20GB (64-bit)
DirectX 9 graphics processor with WDDM 1.0 or higher driver
What if I own a netbook?
Most recent netbooks will be able to run Windows 7. However, it is yet unclear how Microsoft plans to deliver the update to machines without an optical drive. The latest speculation on the matter suggests that Microsoft is considering selling Windows 7 on a USB drive. Alternatively, the company might partner with retailers and offer an in-store netbook upgrade program.
What if I buy a computer with Vista between now and October 22?
Microsoft said that customers who will buy a new a new Windows Vista machine between now and October 22 would get free upgrades to their respective versions of Windows 7. The offer is available for Home Premium, Professional and Ultimate editions. Computers shipped with Windows Vista Home Basic will not be eligible for an upgrade. The offer runs until January 2010.
What happens after October 22?
After Windows 7 will be launched on October 22, most new machines will be shipped with the new OS.