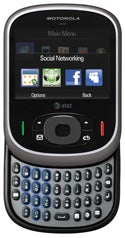 Motorola's Karma QA1 slider phone aims squarely at social networking butterflies, allowing them to flit between Facebook, MySpace, Twitter, and other services with a minimum of keystrokes.
The compact 3G/quad-band GSM phone, available today from AT&T Wireless ($79 after rebate with two-year plan), measures 3.5 by 2.5 inches and has a two-megapixel digital camera/camcorder with 8X digital zoom and an assisted GPS (aGPS) receiver. A stubby, but serviceable QWERTY keypad slides down from behind a 2.5-inch QVGA display.
The glass faceplate (as opposed to lighter plastic) gives the unit a small bit of heft and a solid feel, but at 5 ounces, the unit is lightweight. Large home screen icons identify the social networking services, which are accessed via a large mouse button, while the QWERTY keyboard is large enough for comfortable thumb typing. The phone keypad is embedded on the left side of the QWERTY array.
Multimedia features include large speakers, a digital music player capable of playing back RealAudio files, streaming video support, and a microSD slot for removable media with capacities of up to 16GB. Also included is the AT&T Navigator turn-by-turn street navigation application.
Text messages are stored in conversation format, making it easy to keep up with the thread of a series of messages and the camera and camcorder can be used to upload content to social media service.