The long lines of iPhone buyers may be gone, but Apple's iPhone availability tool has returned as iPhone 3GS stocks dwindle across the United States. The online widget acts as a stock checker to see which iPhone 3GS models your local Apple Stores have on hand. Just go to Apple's Website, select your state, and a grid pops up showing which iPhone 3GS models are available and where. If you see a green dot under the model you want you're in luck, but a red square means no go for now.
Unlike last summer, when iPhone 3G supplies were low and Apple released the availability tool, iPhone 3G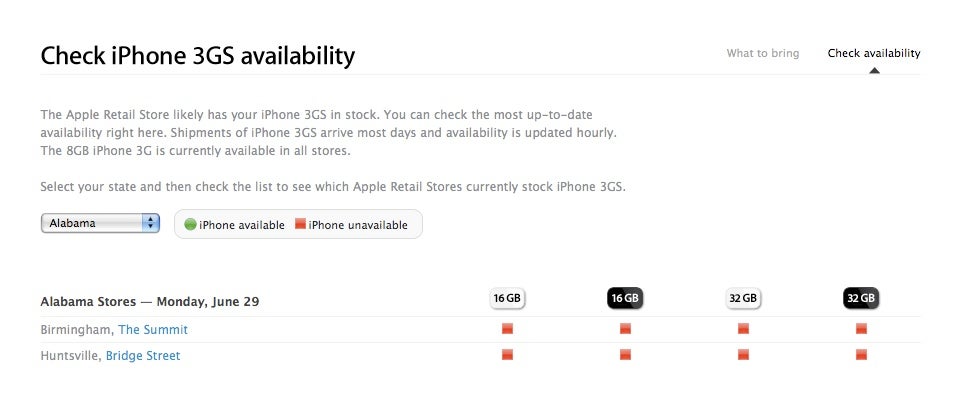 S stocks don't look that bad at the moment. As of this writing, the only states without any iPhones in stock were Alabama, Delaware, Kentucky, Oregon and Utah. (Click on the image at left for a closer look at how the widget works.) However, those stock levels could change throughout the day, since this year's availability tool updates every hour instead of at the end of business hours.
Even though only five states had iPhone-less Apple Stores — the availability widget does not cover AT&T stores — other states were seeing shortages. By my count, 17 states have low or extremely low supplies. That roster lists Illinois, Indiana, Iowa, Louisiana, Maine, Maryland, Michigan, Massachusetts, Minnesota, Missouri, Mississippi, Ohio, Oklahoma, Pennsylvania, Tennessee, Texas, and Washington. Another trouble spot is the white 16GB iPhone 3GS, which in short supply in almost every state in the nation, especially in high-population areas. But again, all supplies are subject to change as retail stores receive more shipments and Apple updates its availability tool.
The iPhone availability widget made its first appearance last summer, when lines continued to form in front of Apple Stores long after the iPhone 3G's initial launch. The original widget was updated only at the close of business each day, and was usually inaccurate an hour or two after your local Apple Store opened the next morning. This year's version is more accurate with hourly updates, but the iPhone availability tool cannot tell you how many units of each phone are in stock — it could be one or 101, there's just no way to know.
But if you want to save yourself some time and aggravation, check in with the iPhone availability tool before heading out to the Apple Store. Apple says all of its stores nationwide are stocked with the lower-priced iPhone 3G.