Deleted a file from the Recycle Bin–and wish you had it back? Worry not. UndeletePlus ($30, 14-day feature-limited demo) will most likely be able to recover it for you, along with possibly hundreds of other files that you thought were gone forever. It claims to recover not only files that you deleted from the Recycle Bin, but also files that you deleted and never made it into the Recycle Bin, such as if you've deleted files from a USB drive, or from within a DOS window. You can also use it to recover files deleted from CompactFlash, SmartMedia, MultiMedia and Secure Digital cards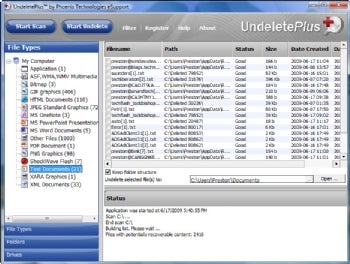 All that is the good news. The bad news is that it won't do any of that until you pay for it. The downloadable version will show you files that can be undeleted, but won't actually undelete them until you register the program.
When you run UndeletePlus, it scans your system for files that have been deleted, then lists them all by file type, or by folder location, or by drive location. For each file, it gives the file name and path, size, date it was created and last modified, and the chances that you can recover it. (In some instances, the deleted file has already been overwritten; in that case, you won't be able to recover it.) You can also filter those files, for example by file name, size, and so on. This makes it much easier to find files you want to recover. When you find files you want to recover, tell UndeletePlus to do its work, and it recovers the files almost instantly.
This version is a major upgrade over the previous version of UndeletePlus, which was freeware. It offers a number of new features, such as a much easier-to-use interface, and the ability to recover more kinds of files. The new features are certainly nice, but it goes without saying that most people would most likely rather have had the program stay free.
Note that when you install this software, it installs the Yahoo Toolbar. If you don't want that toolbar installed, make sure to uncheck that option when installing.