I can't say Carbonite without thinking of Hans Solo frozen within the fictional substance by Jabba the Hutt in The Empire Strikes Back. According to the company's Web site, this is where the name came from–not the family of explosive compounds. Whatever the origins of the name, Carbonite ($55/year) is a pretty darn good online backup service.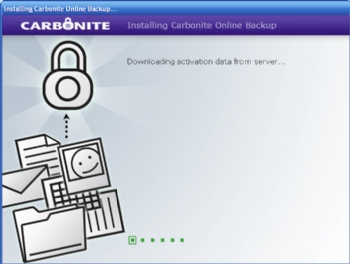 Initially, I found the way Carbonite integrates itself with the Windows operating system confusing–a quick but mandatory tutorial might have helped. If there was one, I might've missed it as my install crashed at the very end–a non-replicable event on my part as it subsequently proved. Carbonite handily lets you right-click on any folder or file to add/remove it from your backups and also adds a drive to Windows Explorer from which you can restore files (or de-select them from being backed up). If you're backing up a lot of different files and folders, there's also a time-saving search-to-restore function to cut down on the browsing.
The logic behind Carbonite's automatic selection of data for backup could perhaps be improved. Unlike most programs that automatically include the Desktop and My Documents (by far the most popular locations for user generated data files), Carbonite only optionally includes these folders. Also, it seemed to back up everything in the Application Data folders–a safe move, but one that adds a lot of data that's useless under any restore scenario that includes re-installing applications.
Other than the one-time install crash, Carbonite was as solid as a rock (pun intended) through all my backups and restores. And once I had sussed everything out, I greatly appreciated the Windows Explorer integration–especially the colored dots added to file and folder icons to indicate their backup status (green equals backed up, red means not backed up). You can disable the behavior, however, I wish Carbonite had taken it a step further and put dots (perhaps the company logo's purple) on folders available for restore. After you drill down two levels, the restore window looks confusingly similar to a regular Explorer window.
At $55 per year, per PC for unlimited backups, Carbonite is a bit cheaper than the unlimited versions of Fabrik and Mozy. It's easier on the eye and offers better interface integration, though in my book, the logic behind the automatic selection of files needs some rethinking. All in all, if one of the free plans (CrashPlan, Mozy, Fabrik, and SpiderOak all have free plans) won't cover your needs, Carbonite is well worth a look.