Photography is an art, but there's something stirring about natural media, such as watercolor, oil painting or charcoal line drawing. If you want to turn your photos into painterly images that emulate natural media, you usually have two choices: programs like Corel Painter, which can require some drawing skill, or push-button filters that give you little or no creative control over the process. Topaz Simplify ($40, 30-day free trial) widens the playing field by providing easy-to-use slider controls for creating one-of-a-kind art from your photos.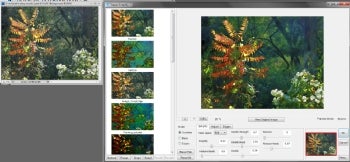 At the core of Simplify is the basic principle upon which all such programs operate: As you reduce the amount of photographic detail in a picture, it appears to become more like a painted canvas, with blocks of color. Or, when using edge detection instead of simplification of detail, you can end up with what appears to be a line drawing.
Simplify has a tabbed interface with three main sections: Simplify, Adjust and Edges. The Simplify tab has seven different sliders that gives the user full control over just what details are removed and which ones are retained. The variety of effects you can get from playing with those sliders is quite large. The Adjust Tab provides traditional brightness, contrast and saturation sliders, plus a Saturation Boost, which strengthens only the already strong colors. This makes for some interesting color styling. The Edges Tab gives more control over edge detection than we have seen in much more expensive programs, including Photoshop.
By combining Simplify and Edges, or applying them separately, you can end up with cartoon-like images, abstracts, charcoal drawings, textured oil paintings, and all kinds of other art styles. When you like the settings you've used on a picture, you can add them to the handful of provided presets. In addition, you can import presets from the Topaz online community.
Besides being compatible with Photoshop-like programs, such as Elements and Irfanview, Simplify supports both 32-bit and 64-bit Photoshop, and will work with Photoshop's Smart Filter engine for non-destructive editing. If you download the trial version without registering, you won't be able to save your image. On registering, you'll receive a free trial license, good for 30 days, which includes all the functionality of the program, including saving pictures.
Topaz Adjust offers photographers a wide range of options for creative expression. The result is of a quality that pros can use, but the interface is easy enough for anyone to master.
Note: This trial/demo version works for 30 days, but does not allow you to save images. To unlock the 30-day, fully functional trial version, register the program for free at the vendor's site.