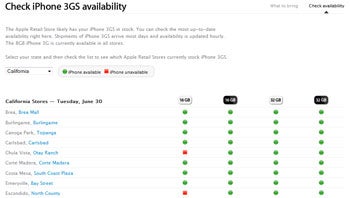 Is shopping mania for the iPhone 3GS finally over? It's hard to say. Apple recently released an online tool that tracks the status of iPhone 3GS shipments across each of its 210 retail stores in the United States. This suggests that Apple is still concerned about the retail availability for it customers. While store employees might welcome the decrease in the number of times they have say, "yes we have it" or "no we're out" over the phone, the question remains: Isn't the whole concept of availability-tracking a little too late?
Out of the 210 Apple stores in America, only six are completely sold out of all iPhone 3GS units as of yesterday at 5 p.m. For the mathematicians out there, that's less than three percent of Apple's retail base. You're guaranteed to be able to find an iPhone 3GS in any variety–16GB or 32GB, as well as black or white–at 164 of the nation's Apple stores. That's a national availability rate of slightly more than 78 percent if you're solely considering Apple's official retail channels.
These numbers present a picture that's a bit skewed, as Apple's retail availability highly depends on your exact location. You'll have an easier time finding an iPhone 3GS in California, Florida, New York, Texas, or New Jersey. Almost half of the nation's Apple stores that are currently stocked with the iPhone 3GS in all its varieties can be found in these four states. Nine states–including Alaska, but not Hawaii–have no Apple retail presence whatsoever.
If sold-out status is any indication, it appears that American purchasers prefer the iPhone 3GS 16GB white edition more than any other design. In total, 82 percent of all Apple stores have this version of the phone on-hand. The black 16GB iPhone 3GS can be found in 96 percent of American stores. I find the figure a little eye-opening, as my launch day experience was completely the opposite. Every Apple (or AT&T) store that I went to, save for the company's flagship operation in Palo Alto, California, was completely sold out of the black editions of the phone.
Customers seem to consider the 16GB version of the iPhone 3GS the "sweet spot" of capacity versus price. Only 23 stores in the nation are sold out of the black or white edition of the 32GB phone. Double that number and you'll get the number of stores sold out of some version of any 16GB phone–46 stores out of 210, or 22 percent. As with the 16GB iPhone 3GS units, Apple's crowd seems to have a preference toward white over black in the 32GB models. But at this capacity level, the gap shrinks to a five-store difference in sellouts. It's difficult to get an accurate representation of preference due to the inability of the 32GB models to really sell out in huge quantities.
Although Apple recently announced that sales for the iPhone 3GS passed the million mark, they (unfortunately) didn't give any further breakdown by price or color. Take these napkin estimates for what they're worth–if you want to be in the popular club amongst iPhone 3GS owners, a white 16GB version of the device is your ticket. Me? I'll stick to robots.