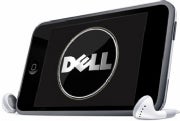 Dell is developing a pocket-sized gadget fashioned after Apple's iPod Touch that will play music, videos, and connect with the Web and is based on the Google Android mobile operating system, according to reports in today's Wall Street Journal.
Dell hopes to break a bad streak of luck with consumer gadgets. It wasn't very successful with its DJ Ditty music player line or with the Axim PDAs, which got axed a few years ago. Dell is giving pocket-sized devices one more shot, this time with an iPod Touch-style mobile Internet device (MID). So will it make a difference?
WSJ's report says that Dell's upcoming MID is slightly larger than the iPod Touch, and does not have cell phone capabilities. In development since last year, Dell's unnamed gadget will not rely on Dell's in-house software team and instead should benefit from using the Android OS.
We've seen earlier this month a fuzzy photo of what it was supposed to be Dell's smartphone project, a Palm Pre look-alike. But we also know that Dell's first mobile phone prototypes have been rejected by wireless networks operators because the designs were too dull. This time around though, Dell has more support from wireless carriers according to the WSJ report.
Support from a wireless carrier could help Dell sell the devices and may mean the gadget could be married to a cellular data plan similar to how Verizon is selling a Hewlett-Packard netbook today. Another route for Dell is to sell this iPod Touch-like device with a simcard slot. Dell's sleek Adamo laptops have a simcard slot (for attaching wireless carrier's cellular data card) but there's no word on such capability on the company's MID.
Nokia has also had three forays into the pocketable MID market, with what the company calls "Internet Tablets." But these devices have never really got off the ground because besides Wi-Fi, the only other way to connect to the Internet was to tether the device to your mobile phone via Bluetooth. And if you have a BlackBerry, an iPhone or a Palm Pre, having a separate device to browse the Internet can be quite useless.
Besides that, Microsoft is also putting out a competitor to the iPod Touch, in the name on Zune HD, which will have strong multimedia capabilities and an Internet browser. So if Dell is working on a nonmultimedia-oriented pocketable MID, without cell phone capabilities, then the whole idea of the device might be a hard sell.
With that in mind, the WSJ report mentions that the launch of the Dell MID (later this year) could be delayed, or the project could be scrapped entirely, just like it happened with the company's plans on launching a new music player (targeted at iPod customers, of course).
At least the WSJ report reconfirms that Dell is still working on a smartphone, more specifically running Google's Android OS, due to be launched sometime later this year, slotting in with earlier rumors from January.