The manager at my local Apple Store looked a little grim when I mentioned iPhone 3GS overheating and battery problems yesterday. "If that's what it is, you're going to have a flood of phones coming back," I told him. As if he had to be told.
Battery problems are nothing new to Apple, but the culprit has always been a replaceable notebook battery–until now. Back in 2006, Apple recalled 1.8 million batteries after only nine overheated–but two people were burned.
So far, I've seen no reports of injuries due to hot iPhone 3GS handsets, but if the problem is as common as anecdotal reports make it seem, it may only be a matter of time. I hope no one gets hurt, but if some phones are getting hot enough to discolor their white cases, what's next?
I'd gone in to buy a new charger, as some cigarette lighter adapters refuse to work with the new iPhone 3GS. As we were wrapping up, I mentioned, "This is one of those iPhones that overheat" and held up my handset.
The manager offered to check my handset out with their iPhone diagnostics, a program running on a MacBook that told him my phone may have gotten hot (or more than one occasion, actually) but not "hot enough."
"It hasn't tripped the internal heat sensor," was the finding. He handed the phone back. My impression was that a tripped heat sensor would have gotten me a new phone, though the store was busy, and we didn't discuss what would happen next.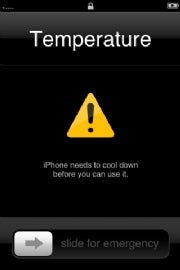 Apple has not commented officially on the reports of overheating iPhones, though it was clear my local store was familiar with the problem. The offer to test my phone was done so matter-of-factly it was clear I wasn't the first.
There is, however, a note on the Apple support site that warns customers not to leave their iPhone 3G and 3GS handsets in the sun, in a parked car on a hot day, and even about "Using certain applications in hot conditions or direct sunlight for long periods of time, such as GPS tracking in a car on a sunny day or listening to music while in direct sunlight."
Under those circumstances, when its temperature exceeds 113 degrees Fahrenheit, the phone can shut itself down and display a temperature-warning screen.
However, the widespread overheating reports aren't about phones left in hot cars, but simply cases of reasonable, normal use. That is what I've experienced, though I'd guessed my hot-to-the-touch phone was more than 113 degrees.
Cupertino, We Have A Problem
After reading forum posts on the Apple website and dozens of blogs and news stories, it's obvious Apple has a problem. How this was not discovered during testing, I can't imagine, though it is certainly possible that the production units have different batteries than those used for testing.
What is going on?
First, only Apple is really in a position to know. Published reports are centering on the battery as the culprit, rather than a hot processor. If I were guessing, I'd have thought it was the processor, given that the problem seems to occur not during charging but during processor-intensive activities.
My store manager mentioned extensive GPS use as one occasion when the new iPhones can overheat, which is something I experienced. Video recording is another reported cause. In my case, hours of music player use also resulted in a hot phone. That says "processor" to me, but a discharging battery can also heat up.
Whatever the cause, my suspicion is it is directly attributable to user activities rather than individual processors or batteries. That means any iPhone 3GS can overheat, but many never will.
My sense–and that's all it is–is that Apple is already replacing some iPhones that have overheated, but is doing so on a case-by-case basis.
What's Next?
At some point, Apple will have to publicly respond to increasing user concern about the overheating problem. I'd bet that at this very moment Apple engineers are looking for a software fix that will stop the problem.
If they are unsuccessful and large numbers of customers find themselves with hot iPhone handsets, Apple's options don't look good. The next few days or weeks should tell.
David Coursey tweets as techinciter and can be contacted directly using the form at www.coursey.com/contact.