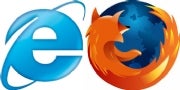 Mozilla's Firefox 3.5 browser launched today not only besting Internet Explorer 8 when it comes to features, in my opinion, but also when it comes to speed. As I'll predict here, for its next Internet Explorer launch Microsoft will crib innovative Firefox 3.5 features and skimp on giving credit. After all, haven't we seen Microsoft do this before? Remember where you spotted browser tabs the first time?
If the so-called browser war is anything, it's a game of one-upmanship of features. All parties are guilty of this to some degree. Here are five features I predict Microsoft will lift from Firefox 3.5.
Forget This Site
In its latest ad campaign, Microsoft's making a big deal about InPrivate browsing, which can stop the browser from recording Web site history. Firefox 3.5 adds a similar feature, but ups the ante with forgetfulness feature. Using Firefox 3.5 you can have your browser history never record visits to a particular site (Playboy.com or Kittenwar.com). To use the feature in Firefox 3.5 just open the History panel, right-click any Kittenwar.com reference, and choose "Forget This Site."
Audio and Video Integration
A new feature of HTML 5 lets Web developers embed audio and video into Web pages in open format Ogg Theora. Mozilla claims it's the first to integrate this feature directly into the browser, but it won't be long before others follow. That's a good thing, because currently developers have to code back-up plans for older browsers.
Tear-Off Tabs
Firefox lagged behind Safari and Chrome in adding this function, which allows users to break out tabs into separate windows by clicking, dragging, and dropping browser tabs onto your desktop. With three major browsers supporting tear away tabs, it's hard to see Microsoft withstanding the pressure to at least add drag-and-drop functionality next time around with its browser.
Faster JavaScript
Speed is a primary battleground in the browser wars, and Mozilla says its new TraceMonkey engine makes JavaScript twice as fast as Firefox 3. By recent estimates, that puts Firefox 3.5 a bit closer to Safari while leaving Internet Explorer 8 in the dust. Microsoft may very well claim that JavaScript is little more than a "drag race," but it couldn't hurt to quietly work on getting competitive.
Text Recovery
If you're an Internet Explorer fan and this article bothers you, it'd be a shame to accidentally close the browser while you were typing a 12-paragraph screed in the comments section. Firefox 3.5, by comparison, saves form text when the browser is closed and recovers it upon return. Don't say we didn't warn you.