Previous attempts to create a mass-market satellite phone may have failed miserably—just ask the backers of Globalstar, Iridium, and Odyssey—but a Virginia-based satellite firm believes it has a better solution that just may work this time.
TerreStar Networks plans to launch a mobile phone service this year that offers a mix of satellite and cellular service. Unlike the bulky, brick-sized satellite handsets of years past, a TerreStar device will be no larger than a conventional smartphone.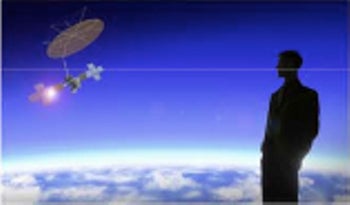 According to a Washington Post report, TerreStar phones will connect via the AT&T network when in cell range, and switch to the company's satellite service when they're not. It's a clever idea, although one that probably won't have mainstream appeal right off the bat.
The target market? TerreStar hopes to attract federal agencies and emergency workers who need phone service when cellular networks fail, such as during natural disasters.
The satellite-terrestrial network is dependent upon a successful launch of the company's TerreStar-1 satellite, which is scheduled to take off today. The $300 million TerreStar-1, with a 65-foot wingspan, is twice the size of a typical TV satellite, the Post reports.
The TerreStar concept has potential, particularly since it abandons the massive, clunky satellite phones of yesteryear. This advancement is made possible by the larger, more powerful TerreStar-1, which allows for a smaller handset.
Ultimately, TerreStar's success in the mainstream will depend on a variety of factors, including the reliability and price of the satellite service. Nobody wants to pay a few bucks per minute per call—unless their employer is picking up the tab.
Do most consumers need anywhere, anytime phone service? Probably not, unless they're shipwrecked at sea or lost while hiking somewhere in the Rockies. Still, there's a comfort factor in knowing you're always reachable when disaster strikes. If TerreStar can keep its service competitive with its terrestrial competitors, it may have a shot at mainstream success.
Contact Jeff Bertolucci via Twitter (@jbertolucci) or at jbertolucci.blogspot.com.