It looks like the image of a woman throwing up after inadvertently viewing pornography was too controversial for Microsoft. As of this morning, the online-only ad for Internet Explorer 8 called O.M.G.I.G.P. — oh my God! I'm gonna puke — has been pulled from all Microsoft and third-party video Web sites — including the dedicated IE8 site, Browser for the Better.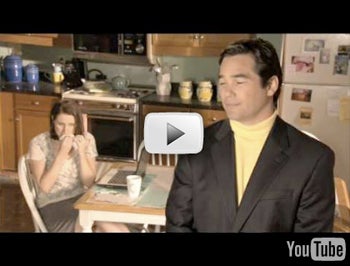 A few days ago Microsoft's IE8 ad campaign started making headlines with its four online only ads featuring former Superman Dean Cain. Two of the ads — F.O.M.S. and S.H.Y.N.E.S.S. — had been up since June 10, but the ad campaign only caught media attention earlier this week. The most outrageous spot was O.M.G.I.G.P., which depicted a woman who couldn't stop vomiting after inadvertently viewing hardcore pornography on her husband's computer. Dean Cain then walked into the scene and suggested this situation could have been avoided by using IE8's private browsing feature.
So why did Microsoft pull the video spot? True, O.M.G.I.G.P. was a little on the disgusting side, but it was hardly controversial or subversive for the online world of 2009.
Here's what a Microsoft spokesperson said via e-mail: "We make a point of listening to our customers. We created the OMGIGP video as a tongue-in-cheek look at the InPrivate Browsing feature of Internet Explorer 8, using the same irreverent humor that our customers told us they liked about other components of the Internet Explorer 8 marketing campaign. While much of the feedback to this particular piece of creative was positive, some of our customers found it offensive, so we have removed it."
Behind the Ad
The ads were developed by the Indiana-based advertising firm Bradley and Montgomery, and were directed by former Police Academy star and standup comedian Bobcat Goldthwait. Since his acting days, Goldthwait has turned to directing including stints on Jimmy Kimmel Live!, The Man Show, and several of his own movie projects. The Internet Explorer ads were his first shot at commercials, and were created in consultation with the creative team at BAM, according to a Brandweek interview with Goldthwait.
When I first discovered that Goldthwait directed the IE8 ads, I was amused but not particularly surprised. O.M.G.I.G.P. feels like the type of humor that would appeal to Goldthwait. Not necessarily because of the puking scene, but because of the honesty behind the suggestion that the private browsing feature found on many Web browsers is ideal for keeping your online porn habits a secret from other people who might share your computer. Private browsing temporarily stops your Web browser from recording your online history and erases any tracking cookies from your online session.
User Outrage? Really?
I'm surprised that Microsoft pulled the ad due to user outrage. Microsoft itself admitted that user reaction to the ad was fairly lighthearted, although some people said it was mildly disgusting. So where could the outrage over O.M.G.I.G.P. be coming from? Well, the online spots were also tied to a larger campaign on the "Browser for the Better" Web site. Microsoft promised to donate eight meals to Feeding America — a domestic hunger charity — for every user download of IE8 that came from browserforthebetter.com. Is it possible the plug was pulled because there was negative reaction to associating a puking scene with a hunger charity? I asked Microsoft for further clarification, but they declined to comment on my theory. That doesn't mean I'm right mind you, but it's possible. Why do you think it was pulled?