Twitter's "Trending Topics" is a popular feature that allows you to see what are the most popular subjects being discussed on Twitter in real time. Yesterday, amid popular tweets about Wimbledon, Steve McNair, and Harry Potter, one thing seemed to be on everybody's mind: gorilla penis. (Click on the screen cap below to enlarge the image.) Highlighting another crack in Twitter security, hackers flooded onto Twitter yesterday to create fake accounts and drive global discussions toward primate anatomy.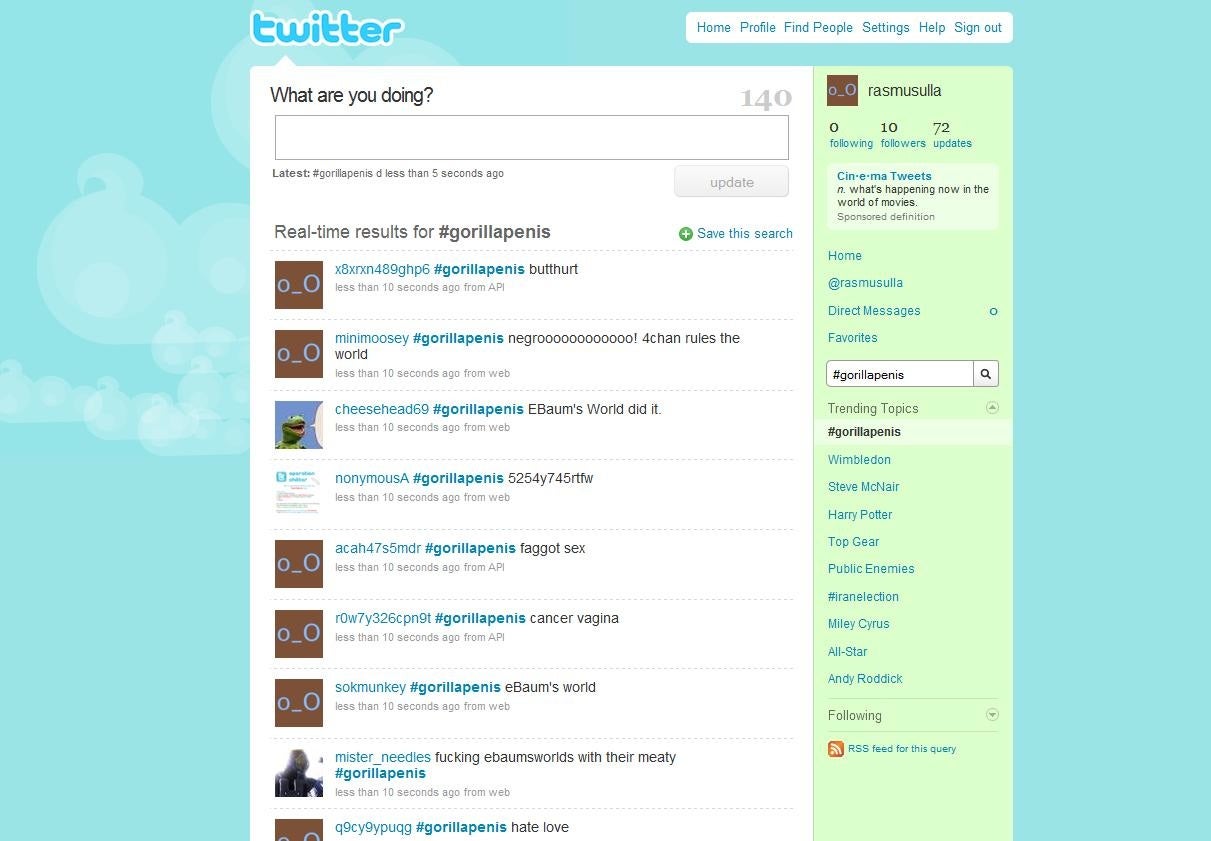 Called Operation Sh**ter, the attack was coordinated via a wiki on insurgen.info with specific instructions on how to carry out the prank. The page has since been taken down, but thanks to Google you can still see a cached version of the wiki. Instructions urged like-minded pranksters to sign up for fake accounts on Twitter, and start posting random (read: nonsense) posts with the hashtag '#gorillapenis' included in every message. The 4chan instructions also asked users to register eBaum's World as their location in their user profile — eBaum's World is a hybrid Website with sections for videos, news, user-created blogs, and games.
Hashtags are a user-developed method to make it easier to search within Twitter for particular keywords. Hashtags also create a unifying thread for people posting messages about a given topic. For example, during the recent protests in the aftermath of the Iranian presidential election the hashtags '#iranelection' and '#gr88″ were used to follow Tweets coming out of that country.
The hackers behind the ruse were reportedly from 4chan — an online bulletin board — as well as other online hacker haunts. But the best known of these groups is 4chan. Members of that site were also linked to the recent YouTube porn prank, as well as the manipulation of Time Magazine's online poll for the 100 most influential people of 2009. It was also suspected that members of 4chan were behind Anonymous, the group responsible for last year's cyberattacks against the Church of Scientology.
By all accounts, the hackers' ruse was successful, and the group posted a screenshot of their rogue hashtag sitting atop Twitter's trending list. The topic has since been removed, and it is unclear how long #gorillapenis remained the top trending topic on Twitter.
Twitter Deletes Regular User Accounts
On the same day as the primate prank, Twitter itself erred by suspending hundreds to possibly thousands of regular user accounts. How the suspensions happened is unclear, but Twitter officially said it was due to "human error."
Twitter typically suspends accounts for abnormal behavior like following or 'unfollowing' a large amount of other users in a short amount of time; spamlike Twitter posts — such as a high amount of tweets from a brand new account; and sometimes even gaining a large amount of followers in a short amount of time. The strange thing is many of the suspended accounts were not exhibiting any of these irregular behaviors. The only recurring factors were that many of the suspended Twitter accounts had at least several thousand followers, and enough of these accounts were using a third-party Twitter application, called Tweetlater, that Twitter had to publicly state the application was "not to blame for these suspensions nor is it in violation of [Twitter's] Terms." As of this writing, most of the unfairly suspended Twitter accounts have been reinstated.
It's unclear whether the mistakenly suspended accounts were caught in Twitter's policing as it managed the influx of new users from the hacker prank, or if these were two separate events occurring on the same day. We have asked Twitter for clarification, and will post any updates here.
Connect with Ian Paul on Twitter (@ianpaul).