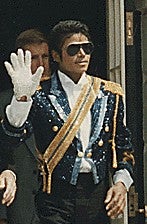 So you weren't able to win one of the 17,500 lottery-distributed tickets to Michael Jackson's memorial service and funeral today in Los Angeles?
Not to worry. A million other ticket seekers for the event were also left disappointed, but there's a workable option if you do your research ahead of time. You can have a center court seat for the service inside The Staples Center wherever you are, compliments of the Internet.
The memorial service, which is scheduled for 10 a.m. Pacific time (1 p.m. Eastern), will be streamed live from a multitude of sources online. Many news sites will begin their coverage earlier, some starting at noon Eastern time.
The funeral will likely be one of the most-watched events online in history, according to news pundits. That means the loads on the Internet will likely be enormous around the globe. We'll have to see how it handles it. Glitches are possible, even likely, as millions or billions of people on earth use computers to watch the funeral.
Most of the larger news outlets have beefed up their capacities for the event to handle what is expected to be a huge crush of demand for the live feeds. It will certainly be a huge test of the Web's condition. Of course, if everyone goes to the big news outlets and they end up being overwhelmed by the demand, then it might not be a bad idea to check out the smaller news outlets online, where the number of viewers may be smaller.
By 8 a.m. this morning, people were already cueing online waiting for the coverage to start at noon and posting Facebook messages about Jackson that were being displayed on the CNN Live Web site, which is providing live coverage of the event.
Here are five Web sites that are expected to provide lots of bandwidth and performance that will be needed to stream the live coverage to your computer:
Also providing extensive coverage of the events surrounding Jackson's death is Entertainment Tonight, which has video footage of everything Jackson.
Be sure to pull up your chair and take it all in while sitting at work, the coffee shop, the library or wherever else you may be today. Years from now, you may be one of those people who will be able to remember exactly where you were when you first heard of Jackson's death and where you watched his funeral and memorial service with the rest of the world.