In some parental circles, it's known that the best way to pull teenagers from a particular hobby is to participate. Likewise, no teen in his or her right mind would be caught dead hanging out with Mom and Dad. But can parents and teens share the same social network? Facebook is about to find out.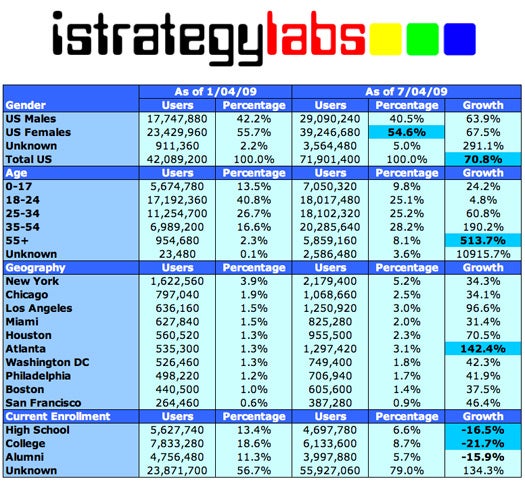 New data from Facebook's own information for advertisers, compiled by iStrategyLabs, shows that the 55 and older crowd is poised to overtake high schoolers and younger on Facebook (click image at left to enlarge). Maybe this phenomenon explains why Facebook is passing its prime as the preeminent social network.
The elder demographic saw 513.7 percent growth since January, reaching almost 5.9 million users compared to roughly 7 million users under 17. Additionally, 35- to 54-year-olds now comprise the largest demographic on the site, growing 190.2 percent over the last half year to reach more than 20 million users.
The prized advertising demographic of 18- to 24-year-olds ruled Facebook in January, but now they're outnumbered by each of the two age groups above them. That puts a damper on Facebook's 70.8 percent overall growth, which looks good on its face but doesn't bode well for advertising.
People inevitably age. High school students become college students, who in turn graduate and move up to the next demographic. But it gets worse for Facebook: In terms of education levels, high school and college students account for the largest drop in users, at 16.5 percent and 21.7 percent, respectively. Alumni are abandoning ship as well, to the tune of 15.9 percent since January.
Personally, I don't agree with our own Hillary Rhodes that Facebook veterans are "defecting" to Twitter. Sure, the latter site has seen explosive growth, and Facebook certainly acts jealous with its constant status update tweaking, but don't forget that most Twitter users drift away.
My sense is that the same thing could be happening to Facebook, but over a much longer period of time. Once users have explored all the site's features, of which there are many more compared to Twitter, they slowly pull away from the service. If this is happening now with younger users, it's only a matter of time before the older crowd follows.
Like a song that migrates from pop to adult contemporary radio, Facebook's just not as cool anymore.