A lot of add-ons promise to help you restore order to your mess of an Outlook inbox, but most of the apps I've tried just resulted in more work for me. Not NEO Pro, though: This handy Outlook add-on is the first I've used that I actually plan to keep using. This $50 tool organizes your Outlook e-mail in useful, intuitive ways and provides lightning-fast searches.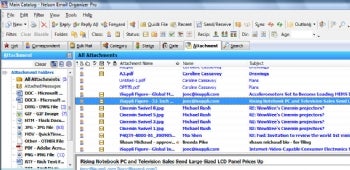 Once installed, NEO (which stands for Nelson Email Organizer) Pro launches whenever you open Outlook. But getting NEO Pro installed wasn't exactly seamless for me: the first time I installed it on my Vista machine, it wouldn't run. I got an error message that appeared repeatedly until the company pointed me to a fix on their support site. It involved making slight changes to a few registry values. Another installation on a second Vista computer worked fine from the start, with no errors.
After making the fix, I was in business: NEO Pro creates a catalog of all your messages, which are then sorted into various folders. NEO Pro runs alongside Outlook, so you can manage all of your e-mail from within its own Outlook-like interface. If you don't like this idea, you can still use Outlook for managing your e-mail, and use NEO Pro only when you want to find a certain message. Messages are sorted by correspondent, date (and within the date folder, they're broken out by recent days, weeks, and months), category, status (whether you've assigned a follow-up action, for example), and attachments.
NEO Pro's handling of attachments is particularly helpful, as it defaults to sorting them by the name of the attachment, not the sender. I often find myself looking for a specific file, while having no idea who sent it, so I liked this feature. You can even sort by type of file, including whether it's a .docx file or .doc.
NEO Pro has a bulk mail folder that is not just for spam: By default, it collects "indirect" messages and places them there. As a journalist, I get plenty of indirect messages in the form of press releases, and I liked having a place to collect them. if you'd rather not use it, though, new in version 4.0 is the ability to disable this automatic bulk mail management. Another new feature is the ability to assign rules to designate e-mail as bulk mail based on all or part of a subject line.
The biggest downside to NEO Pro is its cost: $50 seems a bit hefty to me. But you do get a 90-day free trial, after which you just may find that you can't go back to life before NEO Pro.