Amazon's Kindle 2 electronic reader is getting a bit cheaper. Amazon dropped the cost of the Kindle by 17 percent today, adjusting the price tag from $359 to $299.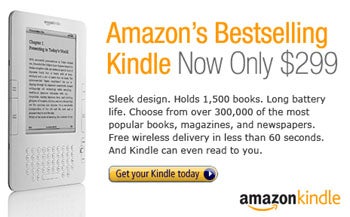 The Kindle 2, first introduced in February, boasts a longer battery life and better display than its predecessor. It also features a sleeker design with a slimmed-down body.
The shift in pricing, according to some reports, is the result of an increase in manufacturing volume and subsequent decrease in production costs. As such, it's expected to be a long-term adjustment rather than a short-lived promotion.
The Kindle DX — a larger e-reader unveiled in May — is still retailing for its original price of $489.
The Sony Digital Reader, commonly seen as Amazon's main competition in the electronic reader market, currently has models available for $349 and $279.99.