Apple has them. Microsoft too. And Linux is just teeming with them. But now Google has created its own brand of Borg that is willing to spread the gospel of Chrome OS just at the mere hint of its existence.
Read on and meet the warriors who will defend Google Chrome OS, should anyone dare oppose the Googleification of the World Wide Web.
Could Matt Drudge be the leader?
Yesterday, Fake Steve Jobs (aka Dan Lyons) noted that Matt Drudge called Google Chrome OS a "death blow" to Microsoft. As FSJ said, that's "pretty over the top." Sure, Google is a popular company and people like its products, but a death blow? C'mon.
But ol' Drudge was not alone in these sentiments. PC World commenter Californian said in response to my 5 Questions post yesterday, "I like having my mind stirred about Google's future domination (and how awesome it will be)!" At least Californian knows he's a superfan. Later in the discussion thread the reader wrote, "I am, as someone termed it, a "Google citizen," but really just a fanatic."
PC World wasn't the only hotspot of Google fanboy cheer either. The Crunchgear team was doubtful about Chrome OS as well, but apparently the boss didn't agree. "This is the same head in the sand logic that people used to say the iPhone had no chance. And now it has redefined the mobile space. Chrome OS will do the same," said TechCrunch founder Michael Arrington. Chrome OS is the iPhone for operating systems? Really?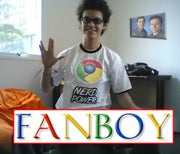 Over at the Google Operating System, Blank said, "Did you see what happened to Yahoo! Mail when Gmail arrived? Did you see what happened to AltaVista when Google arrived? Did you see what happened to your favorite calendar after Gcal arrived? Are you getting the pattern yet?"
Yes, Blank, we see the pattern, and that's what has PC World commenter robkristie concerned: "Am I the only one who is scared silly by this? Google already has too much data on its users." Interesting point.
On the other side, tremp101 isn't buying into Google love at all, "Google has failed in each and every service it has offered other than the wonderful search engine. It is the search engine which pays for these adventures by Google." DRaymond at the Huffington Post took a swipe at Google's former love for beta labels by saying, "Welcome to hell, Google. You aren't going to be able to dance around deficiencies just by keeping a 'beta' label forever…You are going to have to own this product and own it big time."
Google's Chrome OS has stirred up a hornet's nest of passion and these folks just might be more dedicated than any Apple lover or Blackberry fanatic out there. With so many passionate tech users in the world, there are fans and haters of all stripes for Apple, Microsoft, Linux and now Google. So which fan or non-fan are you?
(Image Credit: "Marco Gomes" via Remix Creative Commons License)