Looking to kill a little time with your cell phone? One way to while away the hours: Bejeweled Twist Mobile (various prices), a version of the popular desktop game designed for use on cell phones.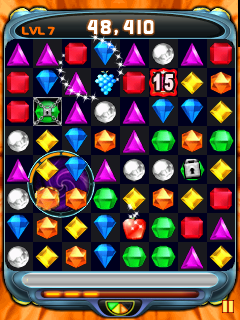 Bejeweled Twist Mobile works on more than 100 different cell phones, though not the iPhone–not yet, anyway. (You'll find Bejeweled 2 in the iPhone's App Store, though.) To get it, you can either get it directly from vendor PopCap Games or head to your carrier's storefront and look for it in the puzzle category under games. (Your carrier's storefront should tell you if your phone is one of the hundreds of available models that will work with the game.) Prices vary from $6.99 to $7.99 for a one-time purchase to $1.99 to $3.49 for monthly subscriptions.
Once Bejeweled Twist Mobile is up and running, it looks almost exactly like a miniaturized version of the desktop game–and that's a good thing. Colorful gems are lined up on a board that looks almost like a game of Tetris. Instead of blocks dropping into the screen, though, the playing field is already full of gems for you to mix and match. The object of the game and the way you play are the same on your phone as they are on your desktop: You earn points by lining up three or more of the same gemstones, which you accomplish by twisting a set of four gems clockwise. You don't need to match gems with every move. As it does on the desktop, Bejeweled Twist Mobile offers four modes: Classic, Zen, Challenge, and Blitz.
I tested the game on a Nokia 6122 Classic cell phone. I found the game easy to control, even using the phone's small buttons. Before long, I forgot I wasn't actually playing on my computer.
If you like Bejeweled Twist, you'll love Bejeweled Twist Mobile. The biggest downside to the game? You may never want to put it down.