Reader Randy is suffering from a vexing problem. Each time he boots his PC, he gets a pop-up Internet Explorer window with this message:
"Cannot find 'File:///'. Make sure the path or internet address is correct."
I feel you, Randy. Stuff like this can be seriously annoying. My guess is that you recently installed or uninstalled a program that Windows is looking for–but can't find–during startup.
What you need is some kind of startup monitor that will show you everything that's trying to run during the boot process, so you can determine which Internet Explorer-related item is the offender–and then disable it.
If you're reasonably tech-savvy, I recommend Autoruns, a free utility hosted on Microsoft's TechNet site.
After running it, click the Logon tab and look for any entries that point to iexplore.exe. If you find one, clear its checkbox and reboot. Obviously this may involve a little trial and error, but it should ultimately solve the problem.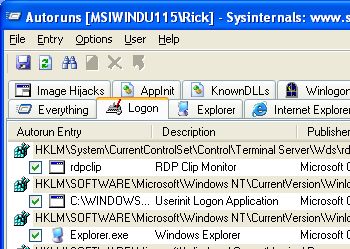 A similar, but simpler, approach is to run Windows' msconfig utility, click the Startup tab, and then peruse the Command column (which you may have to enlarge for full visibility) for entries containing iexplore.exe. If you find one, clear its checkbox, click OK, and then reboot.
Hope that does the trick!