Carperl asked the Answer Line forum what size external hard drive he should buy for backup.
When people talk about the "size" of a hard drive, they generally mean it's capacity–how many gigabytes of data it holds. But you should also consider its literal, physical size.
External hard drives come in two basic sizes: portable and desktop. Portable drives are light, generally the size of a small whiskey flask, and can be powered by the computer's USB port. Desktop drives are larger, inconvenient to carry, and need separate AC power.
On the other hand, desktop drives tend to be faster, hold more data, and cost less by the gigabyte if not by the drive. For instance, as I write this, $100 can buy you a 500GB portable drive or a 1TB desktop one.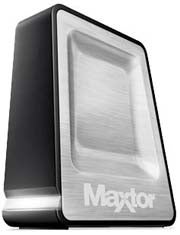 If you want to take the drive with you on the road, go for a portable. If you want to back up massive amounts of hi-def video, you'll want a desktop. Otherwise, weigh the factors and consider your needs. Personally, I prefer portable drives for backup, even if I don't travel with them, because I can hide them after backing up and lessen the likelihood that a burglar will take my PC and my backup.
Now then, about capacity: Go with the drive that holds about 25-percent more than the source drive you'll be backing up from. This will allow you to do a full backup and many incrementals.
See the original discussion at http://forums.pcworld.com/message/232159.
Correction: I changed this article on July 24, correcting a typo. My thanks to Hans Rothkehl for bringing the error to my attention.
Add your comments to this article below. If you have other tech questions, email them to me at answer@pcworld.com, or post them to a community of helpful folks on the PCW Answer Line forum.