Mike Bell asked the Answer Line forum what an image backup actually backs up. I offer more advise than he asked for.
An image backup is supposed to back up everything on the hard disk drive or a particular partition (depending on what options you used in creating the backup). That includes system files, hidden files, errors, and maybe even the boot sector. Restoring from one should restore Windows and your installed applications to their exact condition when the backup was made. The problem (assuming you don't have a separate data partition), is that your data will also be restored to what it was when you made the backup, losing every document and photo you created since. Therefore, you need a separate backup of your data, which doesn't have to be an image backup.
How accurately do images recreate your drive? Accurate enough to test defraggers (I've done it). Restoring an image not only recreates the files–including system and hidden files–on the drive, but even their fragmentation.
I recommend making an image backup when you're almost done setting up a new computer. Do it after you remove the junk, customize Windows, install the programs you want, and set up the network and the users, but before you've migrated your data from the old PC. That should keep the image down to a manageable size, and you'll have other backups of the data (or at least you should).
You might also want to make occasional image backups after installing major applications or otherwise changing your system.
The last time I wrote about image backups, I neglected to recommend any particular programs.So this time, let me recommend Macrium Reflect Free. It's powerful, easy to use, and (as the name implies) free. You can read more about it in Jon Jacobi's article, Make Drive Imaging Easy with Macrium Reflect Free.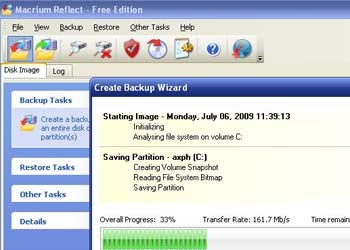 For other recommendations, see Step 3: Create an Image Backup of Your Hard Drive (part of a larger article, Reinstall and Restore Your Windows PC in Eight Easy Steps).
And, of course, you should back up your data, separately from the images, every day. See What's the Best Way to Backup What I Need to Backup?
Should you ever need to reinstall Windows, do one last, complete data backup just to be safe, restore the image, then restore the data. That's much easier than dealing you're your PC's recovery tool.
See the original forum discussion at http://forums.pcworld.com/message/235834.
Add your comments to this article below. If you have other tech questions, email them to me at answer@pcworld.com, or post them to a community of helpful folks on the PCW Answer Line forum.