Moon to Google. Standby for liftoff of Google Earth 3D moon mapping. Well, maybe.
The gang at Google is preparing to embark on some new type of mission, and speculation is running rampant that it's going to be a groundbreaking three-dimensional moon-mapping utility. The G-team is keeping quiet for now, but it's not hard to track the signals and see why the moon's on everyone's mind.
The Google Moon Map Buzz
You can largely thank Buzz for all the Google moon map buzz. Google's press department sent out invitations to reporters this week describing a media event at which famed astronaut Buzz Aldrin will be speaking. The event is described as "a very special announcement about the newest addition to Google Earth" — oh, and it's scheduled for July 20.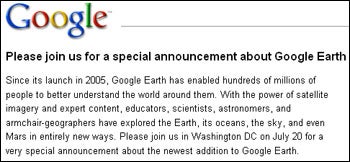 In case your space geek alarm isn't going off yet, July 20 marks the 40-year anniversary of NASA's first landing on the moon. It was that day in 1969 when Apollo 11 Commander Neil Armstrong took that monumental "one small step" — you know, the one that was a giant leap for mankind and all.
So fast-forward back to 2009. Google has Armstrong's fellow Apollo 11 crew member Buzz Aldrin on-board, along with Andrew Chaikin, a space writer who's written extensively about Apollo and the moon. Factor in NASA's recent progress collecting lunar maps and images with its Lunar Reconnaissance Orbiter — and, oh yeah, that little research partnership NASA has with Google — and you can see why some sort of advanced Google Earth moon mapping appears to be a logical destination.
Either that, or Google's just acquired the moon and is renaming it gMoon Beta. The advertising possibilities, after all, would be out of this world.
Connect with JR Raphael on Twitter (@jr_raphael) or via his Web site, jrstart.com.