After hitting Xbox Live and PSN earlier this week, DICE/EA's 24-player, World War II, shooter/vehicle-mayhem-causing Battlefield 1943 left players frustrated with laggy gameplay, pesky bugs and queued lines just to join a server.
DICE developer Gordon Van Dyke attributed the flaws to the fact the direct-download game has proven "successful beyond even my expectations" on EA Games Forums.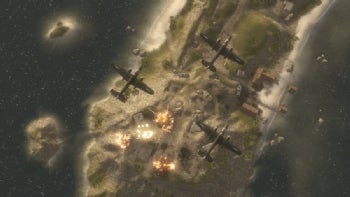 According to the Forum and reporting by 1up.com the Swedish developer has been working nonstop to get more servers online to accommodate the massive volume of players wanting to play the game, and to fix bugs in the gameplay.
Van Dyke said that the number of Xbox 360 servers was more than doubled by the afternoon of launch and work began to increase the PS3 servers before it was launched the day after.
The game, an online-only "reproduction" of the popular 2002 game, Battlefield 1942, cost only $15 (a quarter the price of traditional new releases for Xbox 360 and PS3.) Its low cost is likely another factor to its overwhelming success.
A recent study by comScore shows free gaming sites and cheaper forms of gaming are becoming more popular, including a 34 percent increase in EA Online visitors in 2009 compared to 2008.
As a fan of the entire Battlefield franchise, a cheaper multiplayer release is a welcomed addition to my game collection (single-player was never Battlefield's strong suit anyway.)
VanDyke was proud to announce that 29.45 years of gameplay and more than 5 million kills were completed on Xbox Live during launch day. Impressive, but the question I'm waiting to have answered is whether this game will become synonymous with vehicle stunts and nonstop team killing, like the original was.