F-Secure Online Backup (pricing varies with plan) is a stable, easy-to-set-up backup solution along the lines of Mozy and SpiderOak. I found a lot to like, especially from my perspective as a more experienced user. Features such as manual operation, upload speeds couched in terms of Kbps, and the option to define how long locally deleted files remain in the backup definitely appeal to the advanced user. That said, there are still plenty of friendly beginner features such as the automatic selection of important data files.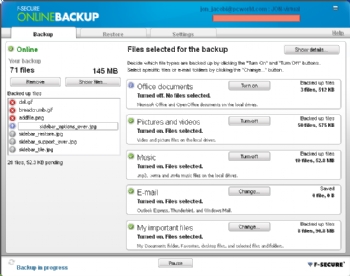 F-Secure (the same company of antivirus renown) Online Backup's three-tab (Backup, Restore, Settings) interface is clean, albeit occasionally confusing–mostly when you want to manually select/deselect files for backup. You can manually turn on and off the auto-selection of Office documents, photos, videos, and music. However, the automatic selected files don't show up in the My Important Files area where you manually select or deselect various (including those that normally contain your photos and music) folders for backup. There are actually too many small issues to list here, so suffice it to say that the entire Backup tab could be more intuitive in its naming conventions, conceptualization, and organization.
Despite the occasional interface puzzler, F-Secure Online Backup will back up your important files and it's cheaper than the pay versions of the Carbonite, CrashPlan, Fabrik, Mozy, and SpiderOak competitors for single PC. At $50 a year for unlimited storage, F-Secure Online Backup is well worth a look for anyone whose needs exceed the free 2GB accounts offered by several vendors.
Note: This software-and-service combo is available in different plans. The price quoted here is for a one-year subscription with unlimited storage.