USB hubs come in all shapes and sizes, but they have one thing in common: They sit on your desk, adding to the overall clutter. (Where have you gone, wireless USB? Where?!)
If you happen to have a desk with those cord-organizing grommet holes, I've got the perfect solution: the In-Desk USB 4 Port Hub.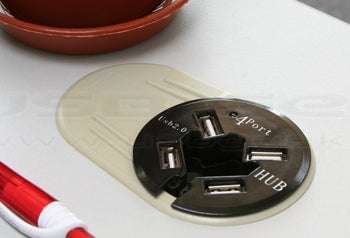 This clever accessory fits inside any standard 2-inch grommet hole. Plug the underside into one of your PC's USB ports and you've got four new "topside" ports at your disposal.
There's also room in the center of the hub for any cables that were previously fished through the hole, though obviously you've got a bit less pass-through space overall.
The only real hitch is that it's not a powered hub, so a smattering of devices (like portable hard drives) won't work when plugged in.
If you can live with that, this nifty little gizmo will run you just $12, plus 3 bucks for shipping. Not at all a bad deal for anyone looking who likes holes but dislikes cable clutter.