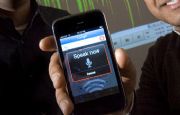 Google Voice is headed for Blackberry and Android handsets, potentially turning smart phones into your hub for managing voice mail, all your contacts, and making low-cost phone calls, according to reports surfacing on the Web today.
The news, which by early this morning hadn't yet officially been posted on Google's own Voice blog, could be huge for mobile phone users who will be able to take advantage of all the cool features included in the Google Voice service. It also has the potential to irk wireless carriers by turning them into essentially "dumb pipe" providers, as Om Malik points out in a blog post.
The Blackberry and Android applications were privately demonstrated yesterday by the creator of the original mobile application, which was originally called GrandCentral before being acquired in 2007 by Google, according to the GigaOM blog. The imminent release of the new applications was also reported on Google Voice's Twitter page early this morning, promising that more details about the releases would come today.
The Google Voice application for Blackberry and Android handsets will reportedly allow you to:
* Play voice mail messages from your Google Voice account
* Send and receive SMS messages, bypassing wireless carrier fees
* Read and store transcripts of voice mails
* Allow you to save money on long distance phone calls
Calls initiated from your cell phone using Google Voice are carried over your wireless carrier's network and are not VoIP calls, according to reports.
Late last month, Google began sending out a limited number of invitations for users to sign up and try Google Voice. You can still send in a request for the service.
So How Does it Work?
The details of how Google's Voice app will work on a mobile device are still unclear. Here is how I think it will likely work. First, let me outline how Google Voice works on the desktop.
To initiate a call using Google's desktop Google Voice service, you have to visit your Google Voice account page and punch in a number you want to call. Next, your phone rings and then the second party's phone rings and you're both connected. The phone call is free and carried over a PSTN network connection (not over the Internet).
With Google Voice's mobile apps, all you do is launch the Google Voice app on your phone and use program's keypad to dial the phone number you want and Google automatically connects the call from your handset to the call recipient. The call is seen as an inbound call to your phone by your wireless provider, so you still have to pay for airtime (depending on your contract) but you would not have to pay extra for a long distance wireless call. Check out what Verizon Wireless charges for long distance calls to get an idea on the potential savings.
Google Become Your Personal Switchboard Operator
These pending new developments certainly make Google a potentially bigger player in the wireless marketplace, on top of its inroads into search, operating systems, online office suites and more. Will we soon see an electric car from Google? When will we see a Google sponsorship decal on the next manned NASA space mission? Never say never.
Yes, details are sketchy so far. But the implications are very interesting for users.
This will have money and technology behind it, and if it works as planned, the big mobile phone carriers will likely want to ink some deals with Google so they can stay in the game. If Google shuts them out — wireless carriers may thwart Google's mobile app aspirations.
For consumers, a wireless turf war on the handset for functionality spells competition, innovation, and (fingers crossed) lower prices for services.
This could be very cool.