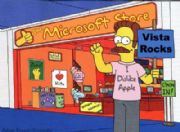 Microsoft's upcoming retail stores won't just be similar in concept to Apple's — they'll also be similar in location. Microsoft will open its retail stores near Apple's existing locations, a company spokesperson confirms, possibly even as close as right next door in some instances.
The Microsoft Retail Store Plan
Microsoft revealed its plans to open retail stores in February. While the company claimed the move would "transform the PC and Microsoft buying experience," many had their doubts as to whether the Windows crew could really compete with Apple in the retail realm (see: "10 Ways Microsoft's Retail Stores Will Differ From Apple Stores").
Still, Microsoft moved forward, hiring a new corporate vice president to oversee the operations. The exec's first duty was to determine a strategy for store location, and it appears that goal has now been met.
"There will be scenarios where we have stores in proximity to Apple," a Microsoft spokesperson explains.
The company's chief operating officer is a bit more blunt.
"We're going to have some retail stores opened up right next door to Apple stores this fall," COO Kevin Turner stated during a Webcast conference Wednesday, according to a report published by Reuters.
The Microsoft Store Story
Other details about the Microsoft stores are still being kept under wraps. The spokesperson does say Microsoft is on track with its original plan to have the locations start opening by this coming fall.
Microsoft has been in the retail business before, by the way: The company opened an outlet in San Francisco in 1999, selling Microsoft souvenirs and software. The shop, however, shut down after several years.
Connect with JR Raphael on Twitter (@jr_raphael) or via his Web site, jrstart.com.