As many would-be Google Voice beta testers are anxiously awaiting their invitations, Google has released their first-party free Android app for the service. Available today on the Android Market, this Google-branded application includes most of the front-facing features users will expect from the Google Voice Web interface with a few surprising additional features.
The Android Google Voice app doesn't replace the default Android dialer application; instead it allows the default dialer application to route all outgoing calls through Google Voice. The official app dials out via Google Voice both more quickly and transparently than the third-party Google Voice Android app "GV" without an intermediate audible call.
The voicemail features work as expected: Audio plays back either via the handset or its external speaker. The text transcription is clear and simple, with some added bonuses. For example, while using the text view and audio playback simultaneously, the playback position is indicated by highlighting the current word. If you touch a word, playback will jump to that point. Like many communication applications on Android, Google Voice receives notifications for voicemail and SMS automatically, even when the app is not active. But unlike carrier-provided notifications, the application pulls notifications from the Google Voice Web service, so you'll need constant data coverage.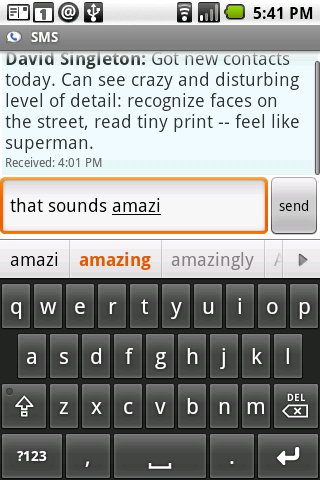 The Google Voice app doesn't integrate SMS into the default Android SMS application which is unfortunate considering the native app has a particularly clean interface. Like the native SMS application, the Google Voice app provides a threaded conversation view, but messages arrive with a fairly significant delay versus carrier-provided SMS. And like the Web application, Google Voice does not support MMS messaging.
On Android, Google Voice logs into the service via stored credentials instead of requiring the user to re-input their password via a third-party app and integrates with the default contact list (assuming a user's contacts are managed via Google Contacts).
I can see many people using the Google Voice application to use their Google Voice-provided phone number full-time. Integration is simple enough, and with most handsets you can even set Google Voice as the voicemail recipient for your carrier-provided mobile number. Google announced availability on their mobile blog for both Android and BlackBerry today; an app for the iPhone should follow soon.
If you're not a heavy SMS user and don't mind the loss of MMS messaging, the Google Voice Android application is a great compliment to the already feature-packed Google Voice service.