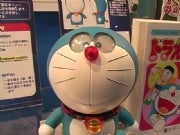 Tokyo's Toy Show opened on Thursday showcasing some of the latest high-tech gadgets from Japan.
One of Japan's best-loved animation characters, Doraemon, has been transformed into a companion robot by Bandai.
The 16-centimeter-high device has a vocabulary of 1,300 words and will react to conversation from its owner, although it lacks the ability to really understand what's being said. It hits Japanese stores on Sept. 3 and will cost ¥31,500 (US$336).
Electronic pets are all over the show from the silly to the more expensive and serious. In Japan many apartment buildings don't allow pets so these toys might be the closest some families can come to having a dog or cat.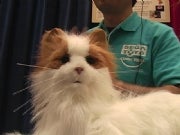 A robotic cat from Sega has sensors embedded around its body to respond to touch and light so it can react when an owner pets it. It will even roll over for a tummy-rub if its enjoying the attention. It will cost ¥10,500 when it goes on sale on July 30.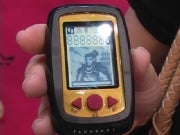 And for those that need motivation to take a walk is Bandai's Yuu-no-kei.
The gadget combines a pedometer with a digital story that develops as you take steps. The more you walk, the more you see of the story. It's targeted at 30-something males who don't get enough exercise and goes on sale on Saturday for ¥4,725.
And going against the digital camera market's pursuit of sharper, higher resolution images is a fun camera from Takara Tomy.
Designed for kids, it can be switched to produce several fun distortions — some like the effects you get from magic mirrors. There's no launch date yet but it will cost ¥12,600.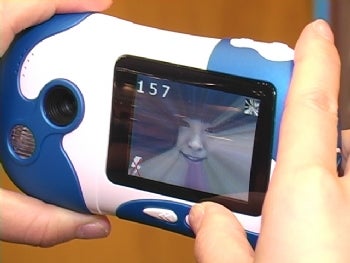 None of the toys had launch dates for other markets.
Japan's toy market shrank by about 1 percent last year but high-tech toys suffered a decline of around 5 percent, according to industry figures. Toy makers are hoping that among the gadgets and gizmos on show this week are several hit products.