If there's a cooler do-it-yourself site than Instructables, I haven't found it. The place is home to thousands of fun, wacky, practical, money-saving, scientific, and innovative projects authored and illustrated by your fellow humans.
For example, want to know how to bake a 3D dinosaur cake for your child's birthday party? You'll find it here. Turn a Lego brick into a USB flash drive? That's here, too. Think Altoids tins are just for carrying curiously strong mints? Think again: Instructables has page after page of interesting things you can do with an Altoids tin.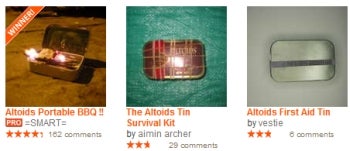 During these hot summer months, I'm working my way through the site's Outdoors section, which includes such nifty projects as the KidWash PVC Sprinkler Water Toy. (Hardware stores must absolutely love Instructables.)
The site is free, of course, but it's worth registering (also free) so you can view/print any given project's instructions on a single page rather than having to jump from one page to the next.
If you're interested in other how-to sites, check out WikiHow, another favorite of mine. In the meantime, if you've built/created/hacked anything particularly cool using an Instructables project, tell me about it in the comments!