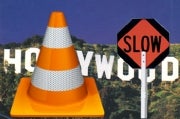 The latest release of the VLC media player is a huge hit, racking up nearly 8.6 million downloads since the 1.0 release last week, according to the makers of the software VideoLAN. But some observers – including movie studio lawyers – may feel the new software is just a little too good. In researching a review of the software, I was surprised to learn that it easily allowed me to copy encrypted DVDs directly onto my hard drive. That's something that has landed firms such as RealNetworks in court.
Copying a DVD with VLC is simple. Just pop a DVD into your PC's drive, start playing it through VLC and click the red record button in the VLC interface. The movie, even, in some cases, copy-protected movies, will record in real-time to a file created on your hard drive.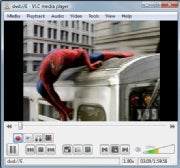 This isn't quite the same process as DVD ripping, in which a software program cracks the DVD's CSS encryption and saves the DVD image as an ISO formatted file. Ripping happens much more quickly than real-time recording.
You can save videos recorded with the VLC software in numerous file formats, including MPEG-4, AVI, and QuickTime. The file can then be saved for playback later, copied onto another DVD, or made available for distribution (if you so choose).
In my tests I was able to copy the CSS encrypted DVDs The Chronicles of Narnia: The Lion, The Witch and the Wardrobe and Spider-Man 2. The Narnia DVD even sported the "copy protected" magnet logo on the back of the case. Another recent DVD, The Da Vinci Code, played in VLC but refused to copy.
I contacted VideoLAN, the makers of VLC, and asked the developers to explain the new video capturing feature in its 1.0 release. Jean-Baptiste Kempf, VLC developer, wrote in an e-mail that in order for VLC to copy a DVD the player needs to bypass the DVD's copy protection. "VLC needs to break CSS protection to play DVDs," Kempf wrote adding "I am sorry, but I don't think this is news at all." He may be right.
Software, services, and tools to copy DVDs have been flourishing for years despite U.S. copyright laws that state companies that sell DVD-copying tools and the U.S. users of the software are breaking the law, according to copyright attorneys. The federal Digital Millennium Copyright Act bans providing information or tools to evade copy-control technology, including the Content Scramble System that's used in DVD media.
I asked a few representatives at the MPAA for a comment on the newest version of VLC a few days ago. I'm still waiting for a reply.
Copying DVDs may be old news, but given the popularity of VLC the MPAA may be tempted to weigh-in on VLC's newest feature someday soon. VLC still has a long way to go before it becomes a household name. According to market research firm Nielsen Online VLC is installed on a minority of U.S. computers compared to Windows Media Player, iTunes, and RealPlayer. But among techies VLC has a diehard following. According to Download.com the VLC Media Player 1.0 is a more popular download than RealPlayer 11, Nero 9, Divx, WinAmp, and Windows Media Player.
The MPAA might have a hard time squashing VLC, if it thinks the software is violating its CSS copyrights. VideoLAN, according to its Web site, is made up of developers around the world, including a team of students at the French engineering school École Centrale Paris. The software itself is open source and its makers allow anyone to distribute it freely.
I asked Wendy Seltzer, a lawyer and DMCA expert who teaches Information Privacy and Intellectual Property at American University, what she thought of the VLC player. "As the Second Circuit has held in Universal v. Corley, CSS is an 'effective access control' and tools to bypass it without authorization violate the DMCA's anticircumvention rule — regardless whether the resulting uses are non-infringing. The DMCA applies to the 'access.'" Translation: VLC playing a DVD without a CSS license, never mind copying it, violates the DMCA. Kempf confirmed that VideoLAN does not have a license from the copyright holders of CSS.
Another VideoLAN developer, Rémi Denis-Courmont, explains to me, "The original motivation behind breaking CSS was to be able to play legally purchased DVD discs at all on operating systems (Linux, BSD and Solaris) without commercial DVD playback software." In other words, he says, it's all about interoperability. "(Using VLC) is the only way I can play my own DVDs on my Linux computer."
A recent case, RealNetworks v. MPAA, is still tied up in the courts. RealNetworks formerly offered a product called RealDVD that performed the same functions as VLC – the ability to rip a DVD to the hard drive. RealDVD loaded the copied file with additional digital rights management to prevent anything but personal use, but the MPAA wasn't satisfied. According to a Web site maintained by RealNetworks, the case is still working its way through the system.
VLC offers no such additional DRM protection on the copied file, and it remains to be seen whether the MPAA will turn its eyes toward the VideoLAN team next.