Flickr is the most popular place on the Web for people to share and manage their photos, and to view images taken by others. The Flickr site is easy to navigate, but you may not realize how various add-on programs and lesser-known Flickr site features can improve Flickr's functionality.
Find free-to-use photos: If you're looking for art to use in your personal blog, but you'd rather not receive a cease-and-desist letter for misappropriating a copyrighted photo, head to Flickr's advanced search page and check the Only search within Creative Commons-licensed content box. Any photos that this search turns up are free for you to use on your site (often with the proviso that you include an attribution). It's a lot easier–and cheaper–than hiring a lawyer!
Download the appropriate tools: Using Flickr is much easier with its accompanying desktop application, Flickr Desktop Uploadr. Besides making drag-and-drop batch uploading of your pictures a breeze, it allows you to tag, title, set privacy levels, create sets, and more–all from one quick, convenient desktop app.
Upload your videos in high definition: The central concern at Flickr is still photography, so you may not have noticed last year when Flickr activated a video-sharing feature for Pro users, or earlier this year when the site enabled video sharing for all users. Pro users can even upload high-def videos with a file-size limit of 500MB–though all Flickr videos are limited to a maximum length of 90 seconds, so be sure to choose your moments wisely.
Upload pics on-the-go via e-mail: When you signed up for Flickr, the service assigned you a top-secret @flickr address for you to use in sending pictures to Flickr via e-mail (it's convenient for uploading images to Flickr from your iPhone, for example). To take advantage of this feature, just open your account's e-mail settings and copy the Flickr upload e-mail address to your contacts. When you e-mail an image to Flickr, the message's subject becomes the photo's title and the body becomes its description.
Spice up your PC with your photostream: As a photo enthusiast, you've undoubtedly put a lot of work into organizing and uploading your pictures to Flickr, so why not show your handiwork on your desktop? The free Flickr .Net Screensaver application displays Flickr images as your screensaver. You can specify the included images based on such criteria as tags, groups, or the user who generated the image. To add a little flair to your desktop wallpaper, try John's Background Switcher, a free app that rotates your desktop wallpaper by pulling photos from Flickr.
Find a great camera: Like the look of some Flickr pics and wish you could get the same results? Flickr can't teach you the skills of an expert photographer, but it can tell you what camera took the picture. Check the 'Taken with' section of any pic's Additional Information panel, or head to the Flickr Camera Finder for a look at the most popular cameras used on Flickr and the pictures that they have taken.
Protect your privacy: Flickr is great for sharing pics with friends and family, but you may not want prospective employers to see last year's Mardi Gras set. Go to Flickr's Privacy page to designate who can see your photos (you can adjust privacy settings on any individual photo so no one, friends and family only, contacts only, or anyone can see it) whether the pics should show up in search results, and which privacy settings Flickr should apply when you upload new photos.
Developer's Choice: Metadata Editor in Organizr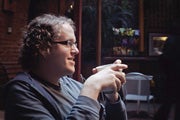 "In Organizr, double-clicking on a photo will bring up a "photo metadata editor" (title, tags, dates, permissions, and whatnot). If you need to edit a large number of photos, get them into the organizer pane, check the Go to next item when you save checkbox, and start editing! Organizr will remember which tab/field you were editing. It's the fastest way outside of a desktop client and/or the API to batch-edit."
–Kellan Elliot-McCrea, Flickr hackr