Gmail ushered in a whole new way of accessing and managing e-mail. Many people think that it's a major improvement over the old desktop-app approach. The following tips, tricks, and add-ons make the Gmail experience better still.
Turn on keyboard shortcuts: Why waste time moving your hand to the mouse every time you want to open, compose, search for, or label an e-mail message? Gmail's keyboard shortcuts keep your hands on the home row and your inbox clean. To activate them (they're not enabled by default), open the General tab of your Gmail settings, enable keyboard shortcuts, and hit the ? key from anywhere in Gmail to see a full run-down of your shortcuts at any time. Google Calendar shares many of the same shortcuts (including the '?' query) and enables them by default.
Make Gmail and Google Calendar better with extensions: Gmail and Google Calendar are a great pair of productivity apps, but if you want to squeeze even more functionality out of them, try the Better Gmail 2 add-on (Firefox only), which adds a handful of excellent features to Gmail, including hierarchical labels and file-attachment icons. Meanwhile, Better GCal (also Firefox only) completely redesigns the Google Calendar skin.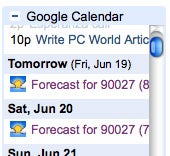 Integrate Gmail and Google Calendar: Gmail knows when you've been invited to a meeting, and it offers to add the meeting to Google Calendar automatically. You can make the two even closer friends by enabling the Google Calendar gadget from Gmail Labs. The gadget creates a handy daily agenda in your Gmail sidebar that pulls scheduling data directly from your Google Calendar.
Automate your inbox: Gmail's lack of folders throws some users for a loop initially, but it doesn't take most people long to fall in love with labels as an organizing tool. Use the Labels drop-down menu to label any e-mail message, or just hit l if you've enabled shortcuts and then start typing the label you want. If you find that you're constantly labeling and archiving the same type of e-mail, though, try creating a filter that archives, marks as read, stars, labels, forwards, or deletes any message that matches your criteria. Simply click Create a filter next to the Gmail search box, enter your filter criteria, and start automating your inbox.
Take advantage of Labs: Gmail Labs is Google's playground for testing provisional features like Forgotten Attachment Detector (helps you avoid the obloquy associated with forgetting to include an attachment), Offline Gmail, and Tasks (Google's budding to-do list app). The Gmail team is constantly adding new Labs features, so enable Labs and start digging for great new functionality.
Developer's Choice:Quick Searches With a Keyboard Shortcut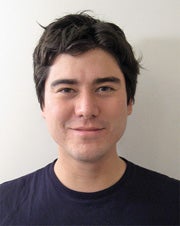 "The Gmail feature I can't live without is search operators. I'm a huge fan of keyboard shortcuts, so when I need to find something quickly, I hit '/' to get to the search box and then type in 'from:keith' plus a keyword that's in the mail I'm looking for that Keith sent me. Make sure you have keyboard shortcuts turned on for the '/' shortcut to work. Also, there's a whole list of other tips and tricks for becoming a Gmail ninja here: www.gmail.com/tips."
–Todd Jackson, Gmail product manager