Wikipedia is a great idea, and increasingly it is establishing itself as a credible source of information on an astonishingly wide array of topics. Most people use it as a quick reference tool, and it's great for that. But if you want to go deeper and become a Wikipedia power user, the following tips and tools will get you started.
Carry Wikipedia on your iPod: Free application Encyclopodia puts the world's largest online encyclopedia in your pocket. And if you have an iPhone or an iPod Touch with an Internet connection, let Wikipanion optimize Wikipedia for your device's touchscreen.
Learn from your screensaver: Screensavers usually display pretty pictures when your computer is inactive, but why not use the space to dish out a little old-fashioned learnin' instead? Rectangle Red's aptly named Wikipedia Screen Saver displays new random pages from Wikipedia at regular intervals.
Download Wikipedia to your computer: Wherever you have an Internet connection, Wikipedia's wealth of knowledge is just a quick search away. But when you aren't connected, try Wikipedia for Schools (schools-wikipedia.org), a downloadable selection of Wikipedia articles that you can burn to a DVD and carry with you everywhere. For an alternate version of Wikipedia that you can install on your laptop, give Pocket Wikipedia a try.
Access Wikipedia despite IT restrictions: If your overzealous IT department has blocked Wikipedia access at your workplace, e-mail ask@snapask.com with a subject like 'wiki windows 7′. In less than 30 seconds, SnapAsk will return an e-mail message containing the full Wikipedia article for whatever you searched for after the "wiki" keyword.
Learn to edit Wikipedia entries: Wikipedia is built on user-contributed submissions and edits. To participate, whether by supplementing an article or correcting a typo, press the Edit this page link above any section–no membership required. Read Wikipedia's 'How to edit a page' guide, and you'll be an editing pro in no time.
Track Wikipedia edits: The dark side of a collaborative, anonymous online encyclopedia is wiki-vandalism. To track changes to Wikipedia edits inside Wikipedia, click the History link at the top of any page; but to turn those sometimes confusing edit trails into an easier-to-understand chart, visit Web site WikiDashboard (wikidashboard.parc.com). Another safeguard is WikiAlarm, a free service that tracks Wikipedia articles of your choosing and e-mails you when someone edits them.
Get a daily dose of Wikipedia in your inbox: Web site DailyLit delivers bite-size chunks of the classics to your e-mail inbox every day. If you prefer nonfiction, subscribe to DailyLit's Wikipedia Tours section for a daily dose of Wikipedia articles covering everything from masterpieces of Western art to Wine 101.
Developer's Choice: Change the Look and Feel of Wikipedia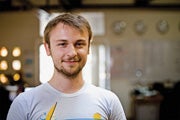 "You can easily change the type of "skin" that is used to display all Wikipedia articles. To do this, first visit en.wikipedia.org and click Log in•Create account (located at the top right of the page). If you already have an account, go ahead and log in. Otherwise, click Create one. Once you finish the quick account setup, click My preferences at the top right and select the Appearance tab.
"You will see a number of skins available to change the look and feel of your browsing experience. We offer a preview link next to each skin so that you can get a good feel for what the page will look like before saving it. For those users wanting to customize their experience even more, there are many other options under the Appearance tab for setting items like the default size of images or whether or not to display a table of contents.
"After you have selected a new skin, click Save at the bottom of the window and the new layout should be visible when the page reloads. Go ahead and select Main page to see the new skin in action."
–Tomasz Finc, Wikipedia software developer