You'll soon be able to control Blu-ray content right from your iPhone. Universal has announced plans to launch a new series of iPhone apps that'll interact with its Blu-ray movie releases. The apps will allow you to tap into interactive features and access other extra info stored on the Blu-ray discs.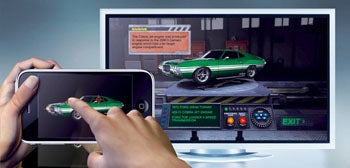 The iPhone Blu-ray Apps
Universal's first Blu-ray app for the iPhone will be released next Tuesday, July 28, to coincide with the Blu-ray release of Fast and Furious . The app, which will be offered as a free download, will unlock a bonus section of the disc entitled "Virtual Car Garage." In it, you'll be able to use your iPhone or iPod Touch to browse through galleries of the cars used in the movie, controlling the models with your touchscreen and loading technical details about the vehicles as you go.
The Blu-ray app will use the BD-Live platform to transit data wirelessly to Internet-enabled players. Universal says the Fast and Furious release is just the tip of the iceberg, too: Future title-specific apps will offer the ability to download bonus content directly from the discs onto your iPhone or iPod for later viewing; to use the devices as fully functioning Blu-ray remotes; and to pull up facts about the cast midmovie. You'll eventually be able to connect to social networks from inside the application as well, allowing you to update your Twitter or Facebook profile while using the program.
Thus far, Universal has announced no plans for similar Blu-ray apps on any other mobile platforms.
The iPhone Blu-ray app, by the way, isn't Universal's first attempt at tying its film marketing into Apple's mobile device: The studio released a free Land of the Lost iPhone game in April to help promote this summer's Will Ferrell flick.