Correction: LivingSocial sent us the following statement from CEO Tim O'Shaughnessy:
"LivingSocial does not sell or share data with brands or advertisers. We don't share, sell or expose individual user data, Facebook profile information, or even anonymized aggregate data to others. Period.
Here's how we work with advertisers: we allow them to request that we display advertising around specific areas of interest, like movies and music, in our application screens and on our main web site. An example of this would be if you're browsing lists in our music section, you might see an advertisement for a concert tour of a band. This is similar to how a sports site might have an advertisement for sporting tickets. But we do not pass, send, or sell any of your private data to them as part of that process.
We value your trust, and will continue to respect your privacy. As always, thanks for being part of LivingSocial."
We apologize for the confusion, and we regret the error.
Here's the story as originally posted: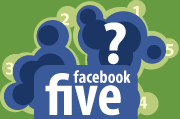 Do you love posting your Top 5 pick lists on Facebook? If so, you should be aware that you're sharing your lists with more than just your Facebook friends. LivingSocial, the company behind the application that lets you create the lists, is sharing your Top 5 data with major entertainment outfits. To what extent it is sharing your data is unclear to me.
LivingSocial CEO Tim O'Shaughnessy was interviewed in the August edition of Wired Magazine. In a one-page Q&A, O'Shaughnessy made some comments that have interesting implications for the data your share on Facebook.
When asked what Living Social does with all the data it collects from the Top 5 applications on Facebook, O'Shaughnessy said, "We go to marketers and say, 'Here are a couple million people into music, and here are a couple million into movies.' We're working with American Idol, Green Day, TNT, a lot of large brands."
Hmm.. Sure sounds like it is not only sharing your Top 5 movies and books with your friends, but potentially sharing that data with producers, rock bands, TV stations, and who knows who else. When Wired asked O'Shaughnessy if he felt users understood LivingSocial was making money off these "confessions," the LivingSocial CEO said, "I think people understand that if something's free, there's some form of monetization involved."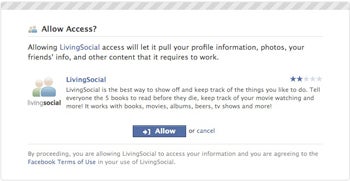 If you're a regular PC World reader this news may not come as a shock to you. In May, my colleague JR Raphael wrote a story about the hidden secrets of online quizzes, and how quiz companies may be using your Facebook data for marketing purposes. Whenever you press that blue "Allow" button to play games, chuck cows at your friends, or let the world know which Little House on the Prairie character you are (as it turns out, I'm Carrie Ingalls), you're not just adding an application: You're giving the application developer access to personal information on your profile.
O'Shaughnessy's comments are yet another reminder that any information you post on Facebook is not necessarily staying behind Facebook's walled garden of services. In fact, if you want to see what other people like, you can go to the LivingSocial homepage and watch a live feed of LivingSocial users sending out data via their iPhone, Facebook, and other sites.
I've dropped LivingSocial a note to find out specifically how the company is sharing data with companies and if the company is making the data anonymous before it's sharing the data with its marketing partners. There's a huge difference between saying "over 950,000 people on Facebook love The Simpsons," and showing a list of specific Facebook users who put The Simpsons at the number one spot on their Top 5.
A spokesperson for LivingSocial responded to my query via e-mail stating:
"LivingSocial doesn't sell the data, but rather works with brands to reach users in topic areas within the product. For example, we have several million users who have participated in our music section. We've worked with bands to help promote their tour schedules and new albums by placing creatives throughout the experience or creating custom Pick Your 5's. These campaigns have not involved selling user data."
That answer is not satisfying to me and confuses me more than clarifies anything.
LivingSocial is actively used by more than 20 million active users every month, according to the LivingSocial fan page on Facebook.