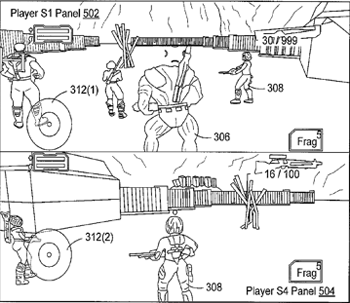 Nothing like flipping through the US patent office's online text and image database and discovering someone's tried to lock up the way we play squad-based, split-screen shooters. Tried and succeeded, it seems, since such a patent was filed on behalf of Microsoft by James R. J. York on December 2, 2002 and apparently granted on July 14, 2009.
In abstract, the patent–dubbed "Dynamic join/exit of players during play of console-based video game"–pertains to a "squad-based shooter" that "allows players to dynamically join and leave the game, while that game is in progress, without the players having to save and restart the game."
The abstract further details a process whereby one or more players located in front of a physical game console can dynamically play the game together, with explicit reference made to screen "splitting" and "unsplitting" as players come and go. We often call this sort of thing "co-op," i.e. "cooperative" play, though the term can mean multiple things in different contexts. Until the most recent generation of game consoles, "co-op" generally meant two to four players playing offline in front of a single video screen in a "cooperative" capacity. Think Donkey Kong Country (SNES), Baldur's Gate: Dark Alliance (multiplatform), and Altered Beast (arcade), or if you want actual split-screen examples, try Halo 2 (Xbox), Timesplitters 2 (multiplatform), and Twisted Metal (PlayStation).
With everything coming up internet multiplayer these days, "co-op" has expanded to mean playing cooperatively with another person (or persons) who might be running a second system on a different TV or in a different room, building, city, state, country, or continent altogether. Co-op is thus about playing cooperatively regardless of the screen configuration or physical location of the players.
As such, Microsoft hasn't patented "drop-in co-op," but rather something more like "dynamic join-leave, split-screen, multiplayer" (ergo headlines like this are a bit misleading). In fact, the word "cooperative" only appears three times in the entirety of Microsoft's nearly 10,000-word patent document.
What's more, there's a section near the patent's end called "Joining the Enemy" which briefly outlines how the split-screen process would umbrella in playing in "enemy squads" as well, something that would obviously qualify as combative, not "co-op."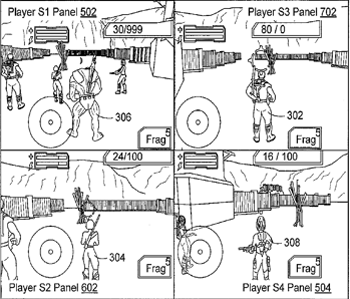 Offline? Online? Not relevant to the patent, which only mentions the latter four times to identify a particular game system's capabilities, all independent of the "join-leave," "split-screen" mechanic. The patent would appear to apply independent of the connectivity vehicle, in other words.
In any case, the idea that methodologies like these get tied up in patent law is unsettling. Games, like books, television shows, movies, works of visual art, etc. thrive off of (and to a considerable extent, are inexorably bound up in) a certain amount of healthy imitation. Dynamic split-screen "multi-play" in video games is a process independent of a patentable mechanism like the Wii-remote. Clapping a patent on it isn't so radically far off from claiming
typing
like
THIS
or
sOmEtHiNg
…is a "process" or "procedure" or "methodology" someone ought to have "sole right to make, use, or sell."
Patent law is depressing. It's a somewhat perverse way to stockpile vaguely defined, often semantically specious technological speculation and, whatever its claims about competitively encouraging creativity, often has the contrary effect of throttling it. Sadly, companies like Microsoft are nowadays rated in part simply on the basis of how many patents they file in a given year. It's something Microsoft even likes to brags about, citing its IEEE patent "pipeline power" rating (it apparently held "top patent portfolio for 2008").
For more gaming news and opinion, follow twitter.com/game_on.