This no-frills photo editing software doesn't require a gig of RAM or half of your hard drive for swap space, but that doesn't mean it skimps on the features. For a whole host of reasons, Fotografix (free) might be my new favorite image editing app. For one thing, it's literally tiny, weighing in at under one megabyte fully installed, including all its included brush shapes and macro scripts. It also sips delicately your system's available RAM, making it well suited to netbooks or other systems with limited resources.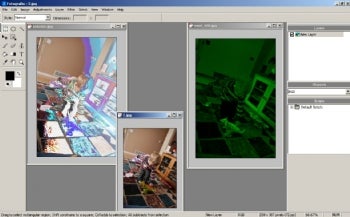 Because it's an inherently resource-thrifty application, its user interface isn't showy: Dialog boxes are fairly basic and to-the-point. But that doesn't mean you won't find all the tools you need to do basic image fixes—-color correction, brightness, contrast—-and beyond. Fotografix supports layers, and it comes with a basic selection of common, popular image modification tools that let you apply to an image. For example, you can apply motion blur, then some sharpening or softening, and finally the ability to pixelate one or more regions of the image. There are even tools to turn a color photo into a green "night vision" image, or solarize a shot for artistic effect.
As far as image organization, and the ability to apply wide ranges of advanced artistic modifications to images, Fotografix the program falls behind its contemporaries. But its low-key approach means the application does those few things it can do really well, without churning your system to a halt just by launching the application. And in an age in which software bloat isn't just the name of the game but the way it's played, a spry little application like Fotografix reminds us how all software companies should respect our PCs, rather than constantly demanding that we keep up with costly hardware updates just to maintain adequate performance.