Want to watch YouTube without all the overhead of a browser? DeskTube (free) lets you do just that. DeskTube is, as you might guess, a desktop app which connects to YouTube and shows you videos. You have access to most of the functionality of YouTube through DeskTube, including the ability to see the festering pit of humanity which is the "Comments" section of almost any video. Because the interface can be designed without the constraints of a browser-based app, it is snappier and somewhat cleaner than YouTube.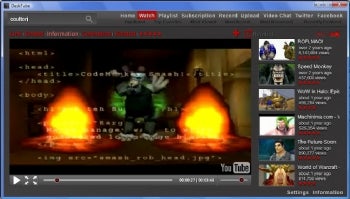 Furthermore, DeskTube lets you tap into several social networking sites and services, such as Facebook, MySpace, and Twitter, giving you a unified console from which you can a) Watch videos of cats being cute, b) Upload video of your cat being cute, and, c) Tell all your friends that your cat did something cute. The idea of specialized portals into Web data, other than the browser, is an excellent one, one of those "D'oh!" notions that seems obvious only after someone else has thought of it.
But… (there's always a but, isn't there?) DeskTube is still a bit shaky. The interface is neither Windows-standard nor Web-standard, and there are several peculiarities to the controls. Some items would become selectable, or not, seemingly at random–for example, say you're watching a video and the right-hand tab shows "Related". You click "Comments", spend a few seconds reading them, weep for the future of the human race, then click "Related" again. Nothing happens–you must hide the Comments pane in order to see the Related videos once again. There are other, similar, issues. I can see my friend's posts in Facebook, but even though there's a box to allow me to enter my status ("I'm reviewing a program."), I am unable to actually type text into it.
Overall, DeskTube is a great idea which is still being perfected. DeskTube is under very active and ongoing development, so I suspect most of these issues will be sorted out in time.