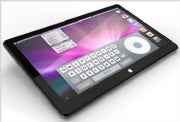 If there's one rumor that is based on nothing more than speculation, innuendo and wishful thinking — and yet refuses to die — it's the Apple Tablet. The latest rumors peg Cupertino's answer to the netbook at the usual 9- or 10-inch screen, but says the Apple Tablet may be an expanded version of the iPod Touch and the thing might have a real keyboard. Word on The Street has it that Apple has also pulled Verizon into this Apple Tablet fantasy, and the cell phone carrier will subsidize the new gadget with some kind of data-only plan.
This latest speculation is based on the musings of one of my favorite fonts of Apple information: Mr. A. Source-familiar-with-the-companies (not to be confused with Mr. A. Source-close-to-the-company or Mr. A. Source-with-knowledge-of-company-plans). This Mr. A. says that while Apple will introduce the device on Verizon, there will not be the same type of exclusivity arrangement that ties the iPhone to AT&T. That's not particularly surprising since Verizon is the first major telecom to blink in the face of growing government interest in exclusivity arrangements between carriers and gadget makers.
The price of the Apple Tablet, according to The Street, will be big, and Cupertino's mythical wonder device would hit store shelves in time for the holidays. These rumors back up last week's whisperings that an Apple Tablet would have a price tag around $800, and be available in October. That high price tag would be part of the reason Apple is considering tying the device to a cell phone carrier. Of course, with Verizon in the mix questions will arise about how useful the Apple Tablet will be.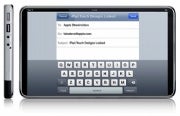 It stands to reason the Apple Tablet would have at least as many features as Captain Crunch's pet project, the Crunchpad. In this case, the Apple Tablet would have at the very least a Webcam, microphone, and a few USB ports. But under that scenario, what would the implications be for VoIP programs like Skype? AT&T doesn't allow VoIP on its network, and some international carriers don't want Skype for the iPhone to even touch devices in their network. Would Verizon feel the same way about a Web tablet that couldn't make phone calls in the first place?
What about the operating system? Will the Apple Tablet be based on an expanded version of the iPhone OS or a pared-down OS X? If the tablet is just a blown-up iPod Touch, then it stands to reason the Apple Tablet would run a version of the iPhone OS and thus be able to run iPhone apps. In that case, Apple has not only given the iPhone Dev Team a new toy to play with, but regular consumers might be turned off by having a netbook-like device restricted to the App Store. That could mean you'd be stuck with Safari instead of Firefox or Opera, and be shut out of other popular programs available for netbooks and full-sized laptops.
But I digress. The whole problem with discussing the Apple Tablet at all is there's absolutely no reason to expect this thing to ever show up. The only so-called evidence we have is the fact that Apple doesn't have an answer for the growing popularity of the netbook (unless you count the iPhone), and an endless stream of anonymous sources willing to whisper sweet tablet nothings into the ears of tech journalists everywhere.
So, let's all take a breath. I know everybody in the tech world wants an Apple Tablet to call their own, but can we see some real evidence please? The Street says Apple has had a working prototype of the tablet for over a year, and yet we haven't seen so much as a grainy photo of this rumored fab pad.
It would definitely be interesting if Apple came out with a Web tablet, and I don't know about you, but I'm done holding my breath in anticipation.
Connect with Ian Paul on Twitter (@ianpaul) or on FriendFeed.
Note: When you purchase something after clicking links in our articles, we may earn a small commission. Read our affiliate link policy for more details.