Here's a not entirely unpleasant surprise: Sam Raimi will direct a live-action adaptation of Blizzard's Warcraft universe, almost exclusively associated these days with its massively multiplayer online PC game, World of Warcraft. You probably know him as The Spider-Man guy. I've long known him as The Evil Dead guy. What a lot of people don't realize is that he also directed A Simple Plan (disturbingly excellent), The Quick and the Dead (haven't seen it, but heard it's excellent) and For Love of the Game (Kevin Costner…no, just no). I own none of the Spider-Man films, but I still on occasion drag my collector's edition DVD of Army of Darkness out for parties.
According to Variety, Blizzard's partnered with Legendary Pictures (Watchmen, Batman Begins, Superman Returns) and Warner Bros., who'll both co-finance the picture. Development should begin almost immediately, with Raimi stepping into the director's shoes after finishing up Spider-Man 4 sometime next year, or early 2011.
Some number-fumbling: If Blizzard's North American subscriber bases is around 3 million users (estimating generously up from a 2.5 million claim in January 2008) and the average cost of a ticket (per the MPAA) is around $7.18, and we assume those 3 million claimed users–active or no–are enthused enough to show up in the first week, you're looking at around $22 million in fan-funded U.S. ticket sales alone. Factor curiosity ("Hey, let's finally see what this whole WoW thing's all about!") and marketing hype and it could produce boodles of cash. Not that Blizzard actually needs the extra coin or anything.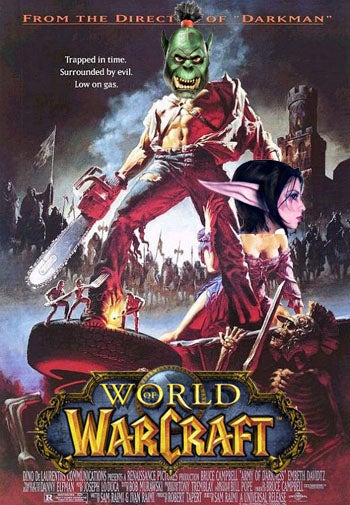 In a statement, Raimi wrote "At its core, 'Warcraft' is a fantastic, action-packed story." Make that a fantastic action-packed story that's also generously lifted its nearly every aspect from better fantasy fiction. I don't know about you, but when I play WoW, I tend to speed-click through anything with text. I don't mean it's poorly or even amateurishly written, just that it's the fantasy equivalent of sponge cake. It started as a giant questing-looting-buying-selling game that gradually picked up background filler the way an air filter collects lint. It's a monster-sized jumble of archetypal cliches and forgettable scenarios, by which I simply mean it's like any other kind of shared-world fiction, where originality and consistency get tossed under the bus of commercial necessity.
With respect for what Blizzard's accomplished commercially, if the company wants to be truly intrepid (for maybe the first time since the original Diablo) they'll give Raimi and team broad developmental latitude to color as far outside the lines of "WoW canon" as necessary to make something that's not a giant commercial for the game. Before you flay me to within an inch of my syntactic life for saying so, remember that WoW works wonderfully as a game, but so does Dungeons & Dragons, currently selling like gangbusters in its fourth edition…and we all remember what happened with the Dungeons & Dragons movie.
For more gaming news and opinion, follow twitter.com/game_on.