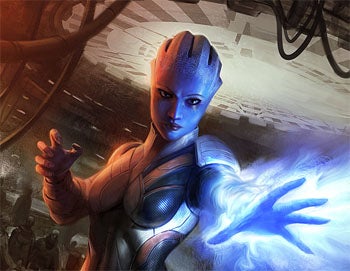 Want to know all the crazy stuff that happens between the tempestuous endpoints of BioWare's Xbox 360/PC sci-fi role-playing opera Mass Effect and the opening beats of next year's Mass Effect 2? No, you won't have to slog through another lengthy novelization with lines like "his body was charged with nervous anticipation" or "but those days of innocence were many years gone." Instead, BioWare's partnered with comics maven Dark Horse to bring us Mass Effect: Redemption, a tale of two games, or rather between two–namely the first and second.
According to the press blurb, the story bridges the "heroic conclusion" of Mass Effect (PCW Score: 60%) with the "mysterious beginning" of Mass Effect 2. (Don't look now, you might actually be getting goose bumps.) Mass Effect: Redemption commences with the last game's protagonist MIA. Well, sort of. The story is actually about him…or, well, her…if you ret-conned the default character profile, that is. Confused? I am. No word yet whether BioWare plans to ship alternate male/female story versions. I say that only half in jest. Wasn't the point of the game (and the novels) to avoid canonizing the protagonist's tale? Not that I'm opposed to hearing BioWare's take, but I'm already seeing comments from fans taking (mild) offense.
In any case, the story concerns Shepard, stuck somewhere "in the lawless Terminus Systems," having to "fight for survival" with assistance from one Dr. Liara T'Soni. That would be squad member T'Soni, an asari researcher and potential paramour of Shepard's during the first game. (That's her looking all Alien Nation meets Farscape in the shot below.)
Mass Effect: Redemption will be a four issues miniseries–the first of several, according to the press release–with a story by Mass Effect 2 scriptwriter Mac Walters that explores "the exotic and dangerous future Milky Way of Mass Effect, revealing previously unseen locations, aliens, and enemies of this rich science fiction landscape." Walters will cede scripting duties to John Jackson Miller (Star Wars Knights of the Old Republic, The Invincible Iron Man) and art's being handled by Omar Francia (Star Wars Legacy).
"Fans of Mass Effect are going to be pleasantly shocked by the events in these comics," said Mac Walters in a statement. "We worked very closely with Dark Horse to make sure this story was built in to the Mass Effect 2 arc, right from the ground up. Reading the series won't just add to your experience of the universe, it will change the way you look at Mass Effect 2… and beyond." The first issue should hit stands January 6, 2010.
Fingers crossed then.
Heads up: If you're in San Diego this week, Mac Walters and Omar Francia will be autographing a Comic-con exclusive Mass Effect signing card at the Dark Horse booth (#2615) on July 24th at 4:00pm – 5:00pm at Comic-Con International 2009.
And if you're looking for Mass Effect 2 goodies, keep an eye on my Twitter feed to see when my interview with Mass Effect and Mass Effect 2 lead producer Casey Hudson goes live.
For more gaming news and opinion, follow twitter.com/game_on.