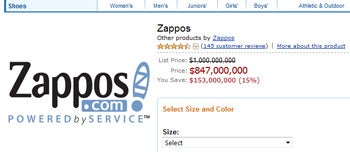 In a 2008 article appearing in the E-Commerce Times, Gartner's vice president of research, Gene Alvarez, had this to say about online shoe retailer Zappos: "Zappos is the Amazon of the shoe business, and its model is extremely difficult to mimic."
How right he was.
Amazon.com has scooped up Zappos in an acquisition deal that now combines two of the market's leaders in online retail and online footware sales. The deal has Amazon.com exchanging 40 million shares of Amazon stock (nearly $900 million at current trading values) for all of Zappos's outstanding shares, options, and warrants. The company will also contribute $40 million in cash and restricted stock to Zappos employees.
While that's all well and good from a financial perspective, the bigger question remains unanswered: What happens to my free two-day shipping? I joke, but only as much as I need to convey the cultural oil and water that seems to exist between the internal philosophies of these two companies.
Dueling Incentives
When's the last time Amazon, out of the blue, decided to upgrade your purchased merchandise to a faster delivery option? Sure, you can try out Amazon Prime for expedited shipping. And the company does indeed offer free shipping for orders you place above the $25 mark–but don't think that this calculated sales incentive is anything but. Amazon's return policy on apparel? You get 30 days, period.
My frequent interactions with Zappos (disclaimer: I wear a size 16) have often brought forth upgraded shipping options and discounts that seemingly arrive out of the blue. Again, a calculated move by Zappos, but it just further illustrates where both companies come from in regards to how they perceive and/or promote customer loyalty.
Amazon is more than happy to offer incentives provided you're willing to pay the price: $25 per order or $79 for a yearly subscription to its two-day shipping service, Amazon Prime. Zappos, on the other hand, surprises you with the carrot of free shipping upgrades regardless of what, or how much what, you've purchased. And the company's return policy on shoes? A full calendar year — 365 days.
A Size 15 of Social Media
The dissimilarities don't just end there. Just consider at each retailer's social presences. Amazon's Twitter feed follows all of 12 users. Its content consists of one-line descriptions of a product to check out (or, occasionally, a breaking news element or funny Internet meme). Number of customers engaged? Zero, as Amazon doesn't @reply Twitter users — at least, I could find no evidence of such dating back to April 1, which is right around when I became extremely bored.
In fact, Amazon seems so out of touch with the self-titled "Twitterverse" that it even refuses to pay affiliate commissions for shortened links to products that you promote via the service. That's right. A tinyurl or is.gd link violates the company's terms and conditions for the affiliate program — not exactly the best way to embrace a new technology or social service.
Zappos, in contrast, thrives on Twitter and the customer engagement the service promotes. As of this article's writing, the official Zappos Twitter feed has 1,022,125 followers, making it the second-largest retail presence on twitter behind Whole Foods. More importantly, Zappos itself follows 406,641 people–factor in retweets, and Zappos could presumably contact half-a-million fans with a message in seconds.
If you don't think this presence is of any importance, well, perhaps you'd like to strike up a conversation with Dell. The company's @delloutlet account has single-handedly cleared more than $2 million in sales, and even a dell employee notes that "Tony rocks" (Zappos's CEO). It'd be hard to argue that a thriving Twitter presence wouldn't have done Amazon wonders during the big #amazonFAIL controversy from three months' back.
I could continue on through the cursory list of Web 2.0 platforms. YouTube? Zappos has uploaded 117 unique videos that resulted in 32,622 views for its official channel. Its video content, ranging from Zappos employees playing guitar solos to "A day in the life of…" segments, has reached up to 100,000 views for an individual video. Amazon? Um. This isn't Amazon. I can't find any official Amazon presence on YouTube at all. Facebook is the only "big three" platform where Amazon tops Zappos by 4,929 fans to 1,467. That's ultimately balanced out by Zappos's big MySpace win: 6,181 fans to Amazon's goose egg.
Checking Zappos's Product Description
Why all the numbers? Because Amazon hasn't purchased a new shoe store; it has purchased a culture. Marketing pundit Seth Godin puts it best: Amazon already has substantial resources and leverage in the online buying and shipping space. It lacks the corporate culture and one-to-one customer connections that Zappos brings to the table.
Zappos wins a long-term retail strategy and significant investor return out of the deal; Amazon gets a chance to see how social media and the opportunity to build out a new social investment on the back of an 800-pound gorilla. Customers? Well, maybe Amazon will Tweet a coupon or two their way. I wouldn't hold my breath.