Late yesterday, Yahoo announced that it had acquired Xoopit — a company known for its photo management tools — and said it plans to integrate the service as a new feature in Yahoo Mail. Xoopit is the company behind My Photos, a third-party application for Yahoo's e-mail service, but Xoopit is perhaps best known for its file management Firefox add-on for Gmail.
You may be wondering what this deal means for you — especially if you're a Gmail user. Here's what you need to know.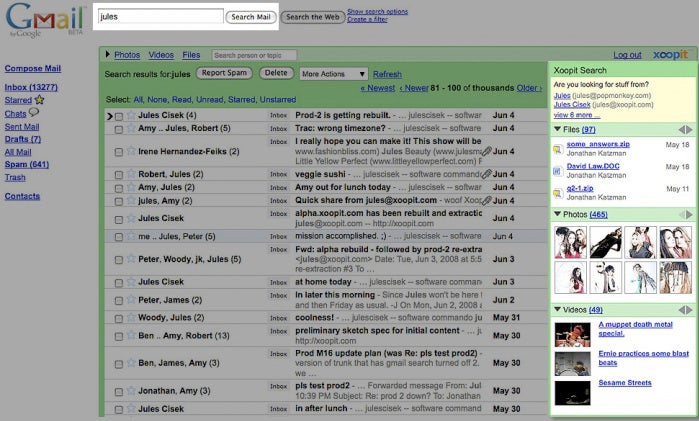 Neither Yahoo or Xoopit has said how much money will change hands, but rumor has it Xoopit's price tag was in the neighborhood of $20 million, according to All Things D. What has surprised some tech-watchers about this sale is that it was Yahoo and not Google who snapped up the company, especially when you consider that Yahoo's My Photos is not as robust as Xoopit's Gmail add-on. The Gmail add-on allows you to catalog your files, photos, videos stored in Gmail, and also featured Facebook integration to let you post status updates and see who's on Facebook among your Gmail contacts (depending on that person's privacy settings). Xoopit's Gmail service would have been a natural fit to increase Gmail's productivity.
Nevertheless, photo management is a big deal for Yahoo, and for that reason Xoopit fits in nicely with the search company. Not only does Yahoo own Flickr, an extremely popular online photo sharing service, but the search company says Yahoo Mail is "home to one of the largest online photo repositories in the world." Xoopit's My Photos is also the most popular third-party application among Yahoo Mail users.
How Xoopit's Acquisition Affects Gmail Users
If you are currently using Xoopit in Gmail, you will be able to continue using your Xoopit add-on — for now. But there's no word on exactly how long Gmail users will be able to enjoy the service. Common sense would suggest that since Xoopit is being integrated into Yahoo Mail, Xoopit's Gmail service will cease once the feature launches as a full-fledged part of Yahoo.
Can I Still Try Xoopit?
As of today, Xoopit is no longer accepting new users. You can download and install the Firefox add-on for Gmail, but its file management functionality will no longer work. At the time of this writing, however, you could still use Xoopit as a way to see who among your contacts is on Facebook, and to set your own Facebook status update.
What Does This Mean for the Future of MyPhotos and Xoopit?
How Xoopit is going to be integrated into Yahoo Mail is still unclear. Xoopit says My Photos will continue to be available in the "short term" as part of the "worldwide rollout of Yahoo Mail applications," and Xoopit says you can expect to see My Photos becoming more deeply integrated into Yahoo's e-mail service.
In a blog post announcing the acquisition, Yahoo's senior vice president of Yahoo Applications, Bryan Lamkin only discussed Xoopit's photo-sharing abilities. "Xoopit will bring phenomenal photo organization, improved photo sharing, and the serendipity of discovering forgotten photos to Yahoo! Mail," Lamkin wrote.
As for Xoopit's other file-management and social networking abilities, there hasn't been any indication what will happen. Yahoo rolled out a new home page earlier this week, and touted a Facebook widget as part of that new design. It seems doubtful Yahoo would be interested in having Xoopit's competing Facebook functionality integrated into its e-mail service. Especially since the home page widget is a more comprehensive Facebook tool and includes valuable advertising space for Yahoo.
It'd be a shame if Xoopit's complete abilities weren't available in Yahoo Mail. Sure, photo management is probably the most popular use for Xoopit, but the Firefox add-on was also a handy way to see keep tabs on what other files were associated with your various contacts. I've dropped Yahoo's press team a note to see if Xoopit integration will be extended beyond photos.