If you use Outlook to manage your contacts, calendar, e-mail, and the like, why not use it for Twitter as well? That's the idea behind TwInbox, a free plug-in that adds a Twitter toolbar to Outlook.
Once installed, TwInbox adds a new folder to your inbox. (It can also create individual folders for each sender, which can be helpful from an organizational standpoint–unless you follow lots of people.)
From there you just supply your Twitter username and password, and presto: It fetches all the tweets from your account and lets you read them just like you read e-mail.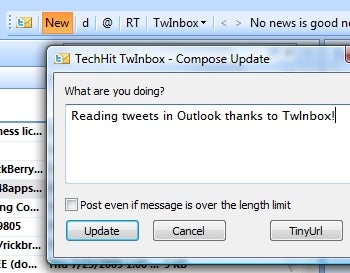 A click of the toolbar is all it takes to send out your own update, send a direct message, reply to a message, or retweet something. TwInbox cleverly auto-shortens long URLs via TinyURL.
The toolbar also shows you a preview of new tweets as they arrive, which saves you having to switch to the tweets folder every time you want to check for updates.
In short, TwInbox is a terrific little tool, and a must-have for any Twitter-loving Outlook users. I do wish it could handle more than one Twitter account, but I can't argue with the price: TwInbox is free.