Don't let that blank, boxy look fool you: Printers can steal your money and your time if you're not careful. Printer manufacturers have come up with a few creative ways to drain your wallet through ink and toner cartridge costs. Other printer models just make you waste precious minutes fooling around with complicated menu systems or stupidly designed hardware.
How do you spot a thieving printer? We've identified some of the leading suspects for each specific crime. But to determine whether your printer is pilfering from you, check its specs and our reviews for these warning signs.
1. If the Printer Is Cheap, the Ink or the Toner Isn't
Think you got a great deal on your printer? Think again. It's a common ploy for printer vendors to sell machines at or below their production cost–and then make their money later on with extremely high ink or toner costs. How can you tell? Do the math: Take the cost of the cartridge and divide it by the page yield—the number of pages the manufacturer says the cartridge can print. (Note that most vendors base their page-yield numbers on industry-standard testing that is designed to represent real-world usage. However, the page yields you obtain may vary, depending on what you actually print.) Some vendors make their page yield information easy to find online (thank you, HP!), while others bury it (we're looking at you, Canon). The cost per page for the printer's ink or toner does not reflect other printer costs, of course, such as those for an inkjet's special paper or for a laser's belts, drums, and other longer-life consumables.
We collected cartridges prices and vendor page yield information for a number of printers. From them, we determined that the following costs per page for black-and-white and four-color pages for inkjet and laser printers are about average.
Inkjet printers: Plain black text: 4 cents to 5 cents per page Simple four-color page: 12 cents to 14 cents per page
Monochrome laser/LED printers: Plain black text: 1 cent to 2.5 cents per page
Color laser/LED printers: Plain black text: 2 cents to 3 cents per page Simple four-color page: 12 cents to 15 cents per page
If your printer's costs fall at or below these averages, that's good. But if its costs exceed these averages, you should consider looking for a different printer. A person who prints two dozen or fewer pages per week, mostly text with a little color, might tolerate a higher cost per page; but with so many good printers out there, why go with one that's going to soak you?
Here are some printers and multifunction printers (MFPs) we've tested recently that aren't as inexpensive as they look: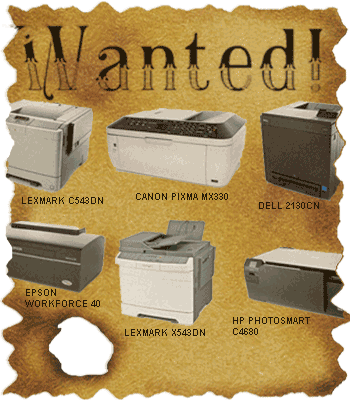 2. Lower-Capacity Inks = Higher Cost Per Page
PC World's research has shown time and again that lower-capacity ink and toner cartridges cost you more in the long run. If you print relatively little, it may not matter much, since the high cost is spread over a longer period of time. But if you print a lot, look for ink cartridges with yields above 250 pages, or toner cartridges with yields above 2000 pages. Some printers offer high-yield consumables that can save you a lot more. Here are the worst and best models for cartridge capacity that we've reviewed recently.
Worst: Printers with standard-size cartridges that are low-capacity and pricey: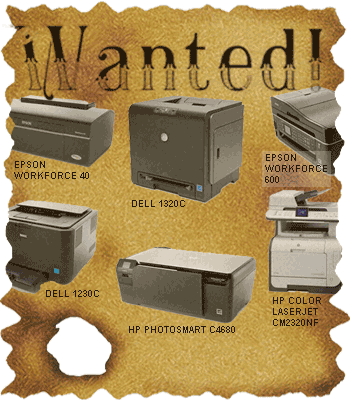 Best: Printers that give you lots of ink or toner for a low price: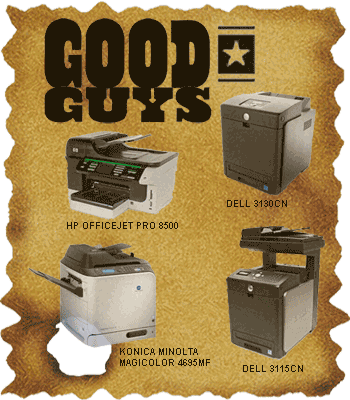 3. Plain Paper or Bust
If your inkjet printer requires specially coated paper to produce the best-looking output, you'll end up shelling out a lot for paper over time. Most inkjets can print at least adequately on plain paper, but a few that we've tested recently still can't hack it.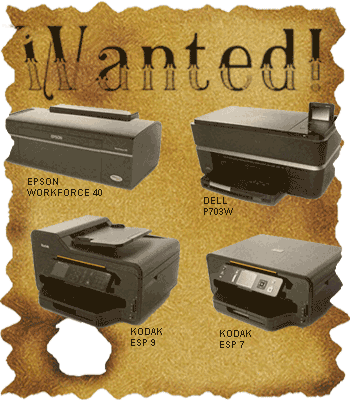 4. The Waiting Game
A slow printer steals your time. But as important as print speed is, you need to take any printer vendor's page-per-minute (ppm) speed claims with a grain of salt: Some vendors quote draft-mode speeds or use other contrivances to make their printers seem faster than they'll actually be in normal everyday use. Here are some particularly slow printers that we've tested recently: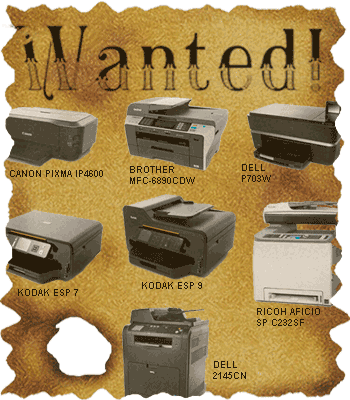 5. Cheapo Paper Trays
One way that some vendors reduce the cost of their cheapest printers is by providing skimpy (low-capacity) or flimsy paper trays. So you save a few bucks at the front end, but then for the life of the printer you have to waste time replacing paper constantly or fighting with a bent plastic extension that rattles annoyingly. Some designs even pile printed pages right on top of blank ones in the same tray. Among the cheesiest models we've seen recently are these suspects: