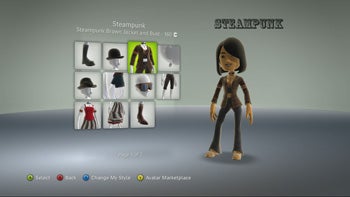 Microsoft's next bonanza Xbox LIVE update (or NBXLU, pronounced 'nuh-bex-loo') won't wink onto your dashboards until August 11th, but since I'm so connected here at Game On, I've had an exclusive first gander. You know, "exclusive." Like in game-journo-speak, where it means precisely the inverse inverted of what you'd imagine it wouldn't.
Party like it's 2009
While you're working that out, let's start with the features list, namely Parties, capital P, where you can hang with up to eight pals and maintain continuous voice communication whether playing and watching stuff together or independently. I don't do Parties yet, though I occasionally host parties (lowercase p) with wedge cheese and bottles of cheap vino capped with sloppy attempts to cut heads finger-fumbling through Rock Band's "Green Grass and High Tides" (Outlaw) or if I'm really feeling lucky, Guitar Hero 3's "Cliffs of Dover" (Eric Johnson) on expert. I might eventually try Parties (capital P!) when Microsoft figures out how to add a keg tap, or at the very least a voice mask that lets me knowingly chuckle (convincingly) at some fellow Partier's witticism while having not the faintest clue what was actually said.
In the meantime, this particular Party update is less about adding than enhancing. If you're inadvertently disconnected from a Party today, you have to manually click back to the action. The update makes reconnection's automatic, though I'm assuming (hoping, really) there's a statute of limitations. Wouldn't want to be down for 24 hours then have to fuss with the feature trying abortively to patch you through to some fuzzy after-party void, right?
The other new Party feature lets you quickly corral friends without plunging through redundant menus, and there's a related Netflix Party update that pulls up to eight Xbox LIVE Gold members into a virtual theater to watch movies, throw popcorn across the aisles, and "flirt." (Coming in the update after this one, the option to have your first "awkward kiss," modeled after the five-star disaster between Bonny Wright and Dan Radcliffe in the latest Harry Potter flick.) Alas, I couldn't test the Netflix stuff (e.g. computer-less queue management, enhanced streaming playback, more detailed friend activity info) since the service doesn't function outside the US. All expats see is a "sorry, this feature isn't available in your region" stop sign. Bummer.
Cachet me if you can
Anyone for gamer card "bling"? If you're a $50 per annum Gold member, your gamer card will now display a tiny golden circle wrapped around a number perched above your reputation star rating. Mine reads "4," which presumably means "four years," ergo the function must round up, since my anniversary's technically November 2009 (like most early adopters). That said, I'm not entirely comfortable with this feature, since I'm not exactly with Microsoft on gold membership, and I don't know how much I care to pimp the service inadvertently. Could we at least have an option to toggle?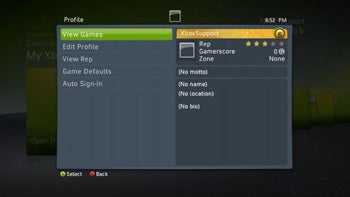 A potentially controversial feature: If your subscription's nearly up you'll get a notification when you sign into LIVE (30 days? 1 week? 24 hours?). That's perfectly swell, but do we (and if we don't, can we) have the option to disable the notification if we're not renewing? Or just don't want to be bothered by it?
Remember the "renewal of death" Windows LIVE ID debacle from a few months back? Fixed, thank goodness. If your WLID has expired, you'll now be prompted to update the next time you sign into LIVE. Microsoft's also made improvements to "account recovery" which they claim "speeds up" the process and "increases reliability."
Avatar! Know that Britannia…err, Xbox LIVE has entered into a new age of cosmetic enlightenment!
Good bye boring old Avatar wardrobe, hello shiny new "Avatar Marketplace." To date, you've only been able to fiddle with tops, headwear, makeup, bottoms, accessories, and generally static, non-moving miscellany. The update adds franchise tie-ins like Halo 3, Halo 3: ODST, Monkey Island, and Fable 2 "branded" gear, with the catch that it'll cost you MS Points.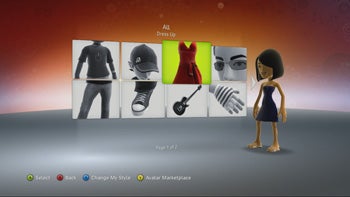 Oodles of MS points, in fact. Want to look like a Fable 2 Spire Guard? That'll be 160 for the jacket, 160 for trousers, and another 160 for shoes, i.e. 480 MS Points or $6. How about Monkey Island's Le Chuck? 80 for the pirate hat, 240 for the pirate suit, and 40 for the eye patch, i.e. 360 MS Points or $4.50. Seems pricey, considering I only ever notice my avatar at system launch. The option to unlock some of this stuff as "awards" in the corresponding games is on the other hand a much better idea.
You'll also be able to select from "your favorite fashion labels" when the store starts to fill with content (the preview selection is limited to two made-up brands). I don't see Gap or J. Crew or Hugo Boss yet, but with the corporate cross-licensing craze, they can't be far off. If you're already a brand-obsessed fashionista in your first life, this one's probably for you.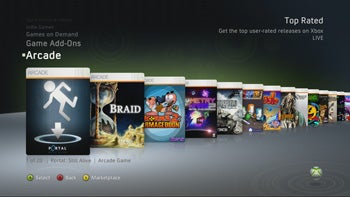 Rate me, display me, sort me…
Who needs snarky game journalists or mathematically specious aggregators like Metacritic when you've got community game ratings! Sure enough, the update lets you drill on any game in the Games Marketplace and drop in a quick star rating by tapping the A-button to increment or reset your verdict. A number displays in parentheses beside the "average rating" to let you know how many people voted, and there's a new "top rated" category that sorts games by those ratings accordingly. Only quibble: If I want to back out without submitting a rating, I can't–once you're in, you're apparently committed.
Speaking of committed, I've pledged fealty to a VGA display connection since my Xbox 360's one of the non-HDMI originals, so all I can tell you about the HDMI update is that Microsoft claims you can now override the audio/video information your TV sends, e.g. you could ostensibly force it to 1080i if it's only detecting 720p.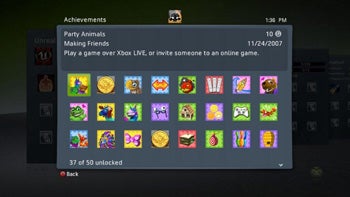 My favorite miscellaneous improvement: Achievements browsing. Instead of plowing through dozens of slow-to-load lines of text, game achievements look like they do when viewed via your Game Library, i.e. the little achievement icons spread eight columns by three lines. Economical and elegant.
What else… Xbox LIVE Community Games has been renamed Xbox LIVE Indie Games, which Microsoft says "better represents the independent spirit of these titles." Voice messaging can (finally…what took so long?) detect when it's not receiving audio and alert you so you're not dispatching blank messages. Friends lists can now be sorted by activity, Gamertag, or online status, and time stamps have been added to the Memory settings view, making save game management less opaque.
What the July 24th Xbox LIVE update preview doesn't include
Games on Demand, Microsoft's new online library of downloadable, account-linked Xbox 360 games, manuals (printable from Xbox.com), and the option to re-download anything you've purchased "to the same console or another console." Payable by MS Points, direct debit, or credit card. Games promised so far? Assassin's Creed, BioShock, Call of Duty 2, Crackdown, Mass Effect, and Oblivion.
What the final August 11th Xbox LIVE update won't include
Facebook, Twitter, Zune video and 1080p Instant On, or Last.fm support. Microsoft won't say when we'll see them (last we heard at E3, they were coming this fall), just that they'll be in "future Xbox LIVE updates." Notice that's updates plural, meaning we'll probably see them staggered as opposed to rolled out simultaneously.
Also: While we'd heard Microsoft was working to make the guide speedier (the grayish blade-like menu that pops up when you tap your gamepad's central glowing X button) it doesn't seem fated for this update. Everything I've tested so far indicates the guide's still poky, and it may have picked up a serious glitch: Just after invoking, it now freezes for 7 or 8 seconds while the hard disk audibly crunches in the background. I'm not sure what changed, but it happens every single time I tap the button.
And the verdict is…
Comme ci, comme ca, i.e. "so-so." Your mileage will of course vary according to your investment in any of the above features. The guide button issue's the only serious downer. Maybe it's just my Xbox 360, or maybe it was happening before I updated and I'd subconsciously rationalized it out of existence. I'm sure noticing it now, and it's definitely bad mojo. Where's the Xbox version of Diskeeper when you need it?
And afterthought: Hey Microsoft, how about a bunch of Games For Windows LIVE feature updates for all us steadfast Windows gamers?
For more gaming news and opinion, follow twitter.com/game_on.