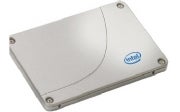 With Intel introducing new faster and cheaper SSD drives coinciding with Windows 7's release to manufacturing, it might make sense to include one with your next computer purchase. After all, Windows 7 is the first Microsoft OS to include native enhancements for SSDs.
Serious geeks have been drooling over the prospect of SSD drives for years now. With their uber-expensive prices and glaring size limitations, it seems as though they've always been tomorrow's technology. Intel makes some of the most coveted SSDs, but until now they've been priced like luxury items. Intel is introducing two new X25-M SSD drives that are faster and much cheaper. It might be time to take the leap. Since you're going to put together a new computer to run Windows 7 anyway, why not include a solid-state disk?
Windows 7 disables disk defragmentation, which is unnecessary with a SSD and shortens the device's life expectancy. It also disables Superfetch and ReadyBoost, which were designed to improve performance on traditional drives where random read performance is a serious bottleneck. Perhaps most importantly, it supports Trim, which significantly improves write performance. This article gives a great explanation on why Trim is so important. The drives use Intel's newest 34nm technology, improve the previous generation's write performance and reduce read latency by an additional 25 percent. Basically, they smoke the traditional spinning disk hard disk that's in your current computer.
It's true that the rotating platter based technology is still miles head of SSDs in terms of GB per dollar, and that's likely to be true for years to come. Intel's newest 2.5inch drives will cost $225 for the 80GB version and $450 for the 160GB (previous generation drives currently run close to $375 and $770, respectively). That comes to more than $3 per gigabyte, which is still expensive compared to traditional drives which give you nearly 3GB per dollar for a laptop drive and over 11GB per dollar for a desktop drive.
Don't let this price imbalance deter you. For as much as many of us use our computers, the performance gained by using a solid-state disk will be well worth the additional cost.
While 80GB or 160GB might seem like a paltry amount of space compared to the 500GB available on today's laptop disks or 2TB possible on a desktop drive, it's still a healthy amount of space.
The truth is, many people don't ever come close to using the amount of disk space that comes with modern computers. More isn't always better, especially if it's slow and underutilized. Additionally, because SSD drives have no moving parts, they're dramatically less likely to fail catastrophically. Yes, they have a limited life span, but they tend to fail slowly and predictably.
Most of us can get by with a mere 80GB on our portable computers. Maybe not if you store your entire media collection on it, but this stuff can all be stored on an external drive or on a home computer anyway. For desktop computers, you can simply put your OS and apps on an SSD and get a second high-capacity hard disk for all your media. When SSD drives become more mainstream, laptop manufacturers might start including space for a second HD. Given that the Intel SSDs are also available in 1.8-inch form factors, this seems reasonable.
Michael Scalisi is an IT manager based in Alameda, California. When he's not in the data center, he's off getting injured while off-road unicycling.