AT&T used Twitter last Friday evening to announce that a refurbished iPhone 3G — specifically, the black 8GB model — can now be picked up for just $49, while supplies last. That's half the price of an unopened 8GB model. A refurbished 16GB iPhone 3G (black or white) costs $99.
This could be a good option if you're after a 3G-capable iPhone, but don't crave the faster specs and improved camera of the new iPhone 3GS. You'll still need to sign up for a two-year contract, though.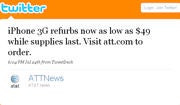 From AT&T's site: "Refurbished phones are previously owned devices that have been unused or lightly used and returned during the 30-day trial period. Each refurbished phone is independently quality tested and loaded with the latest software to meet current factory standards. Some refurbished iPhone 3G devices will have minor scratches.
Refurbished iPhone 3G devices carry a warranty of 90 days or more.
For details about the warranty on your refurbished iPhone 3G go to www.apple.com/support/oss/."